Women's Health

Safeguards & Solutions
47 million US women are at-risk for pregnancy and one third want reliable hormone-free contraception

An estimated five percent of women globally age 18 to 49 will contract chlamydia or gonorrhea by 2025

FDA recently approved a new pH-focused contraceptive and fast-tracked a related STI treatment 

New Era – Women's Health is one of the most talked-about and actionable investment themes in healthcare today. I think this reflects a rising tide of female empowerment and proactive discussion across social media, as well as new technologies which open doors that were previously shut. No longer is egg-freezing a mysterious concept contemplated with doctors in private. Now it's a perk openly offered by many of Silicon Valley's largest employers to entice top female talent. Greater awareness often sparks better solutions, and one San Diego based company has just received approval for the first new contraceptive innovation in decades. Its patented solution is entirely hormone free, giving women greater control over their bodies without disrupting natural cycles. There's also a pathway to profitability and follow-on drugs in the pipeline. This will be my third Women's Health addition to the portfolio, and like the other two, I see significant runway for growth… possibly even a takeout.
Evofem Biosciences, Inc. (EVFM) was founded to advance the lives of women by developing drugs and treatments which impart control over sexual and reproductive health. The company's unique and patented approach relies on user-applied gels which change the pH balance inside a woman's reproductive canal, paralyzing sperm and creating a hostile environment for bacterial diseases transmitted during sex. Evofem's treatments are 100% hormone-free and produce superior outcomes than many alternatives. The contraceptive product was approved by the FDA in May, and its late-stage prophylactic for STIs has been fast-tracked. Each has a significantly large addressable market, making Evofem attractive as a potential "tuck-in" acquisition for a large pharmaceutical company looking to expand its Women's Health franchise.
Evofem's Pipeline
Safeguarding Women



How it works. The body's natural pH is slightly alkaline at about 7.3 on a scale of 1 to 14, where 1 is most acidic and 14 is most alkaline. However, certain parts of the body require a far more acidic environment. This is true of the stomach and small intestines in order to facilitate digestion (pH 2-3), as well as a woman's vagina in order to prevent bacterial growth (pH 3-4). Male spermatozoa like alkaline environments of 8-9, so during intercourse, a woman's body release chemicals which temporarily raise pH. This change helps sperm to swim more effectively, but also facilitates bacterial reproduction. Evofem's two drugs counteract the body's alkaline response, introducing acidic chemicals suspended in a user-applied gel to restore vaginal and uterine pH. Recently FDA-approved Phexxi is a contraceptive, EVO100 is an STI prophylactic. Each relies on pH as a means of action, though the chemicals differ as do their targets.
"FDA approval of Phexxi means women now have access to a non-hormonal contraceptive option that they control, on their terms, to be used ONLY when they need it. Empowerment results from innovation and we are proud and excited to deliver new innovation to women in a category ready for change."
-Saundra Pelletier, CEO Evofem Biosciences, Inc.
"During my 15-year career at the FDA, I participated in the review and approval of many sexual and reproductive health products, and I believe that Phexxi serves a true unmet need in contraception."
-Lisa Rarick, M.D., former FDA Division Director and Evofem board member 
Evofem's drugs are the first of their kind, and Phexxi is the first hormone-free contraceptive launch in decades. The company has invested significant resources into demonstrating the treatment's effectiveness (hence the recent FDA approval) AND in paving the way for robust commercialization (hence the recent $100M secondary offering). Managment has mapped out a pathway to profits based on several key components.
Demand

– 47 million US women are at-risk for pregnancy, and one-third identify as beyond hormones due to related complications, or because they seek contraceptive solutions which meet their particular needs (KJT Research). Evofem believes its high-touch concierge approach can conservatively capture 5% of this 17M cohort, which may prove conservative since 46% of the 860 women in Evofem's trial said they preferred Phexxi to their previous birth control method (2.7 times higher than the 17% who opted to stay with their current regimen).

Pricing

– Evofem intends to price Phexxi at approximately $1,200/yr, which is comparable to the pill (assumes 7 boxes

 

per year containing 12 applicators each, allowing for sex 2-3 times per week.) This run-rate would generate $1B in revenue annually.

Reimbursement

– 60% of insurers have already agreed to cover the full cost of Phexxi with $0 co-pay as a contraceptive alternative (Putnam Research). The number rises to 90% among ACA payors. This suggests relatively fast and friction-free uptake.

Direct to Consumer

– Evofem intends to market directly to consumers via a hi-touch telemedicine approach, where marketers connect potential patients with local doctors via video in order to secure prescriptions. This creates a more pleasant user experience, leverages significant economies of scale and cuts the company's SG&A.

Additional Upside

– Evofem's prophylactic to prevent chlamydia and gonorrhea will enter Phase III trials later this year, potentially providing additional commercial upside if ultimately approved. Given the potential size of this market (which the company defines as two billion women globally), this become a significant call option.
Simpler & More Direct
Evofem's Telemedicine Approach


The Trade:

Buy Evofem Biosciences, Inc. (EVFM) at $3-4 with a $14 target and a $2 alert.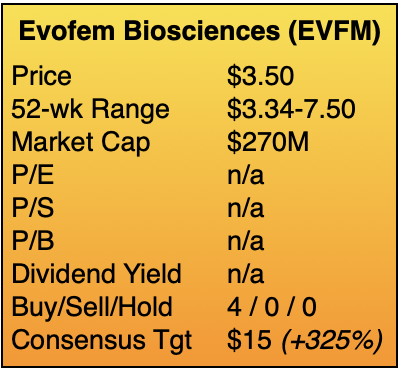 I like owning EVFM in the mid-$3s, which coincides with previous support and the stock's 52-week low. While I recognize shares traded as low as $2 two years ago, that was prior to commencement of the Phase III trials which recently secured FDA approval. This puts EVFM on a very different trajectory and I expect shares will rally, since the early-June financing provides $100M in working capital to initiate commercialization. Note shares are down due to dilution… our entry point.
My target of $14 implies a market capitalization of approximately $1B, which equates to one year's worth of sales if management succeeds at executing its plan. Assigning a target multiple of 1x sales to a pre-commercial company provides both an aspirational and achievable goal. Curiously, the four sell-side analysts covering Evofem have targets from $7 to 25, with an average of $15.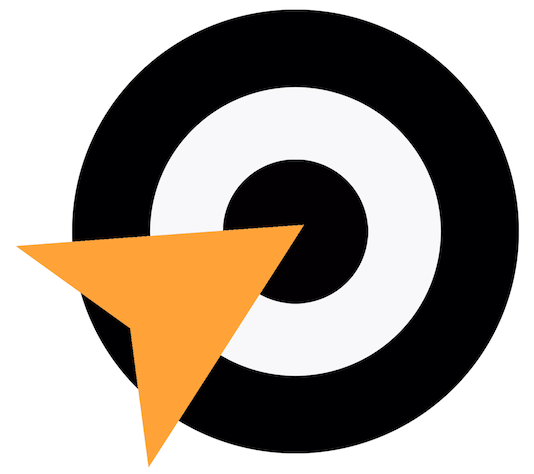 Buying at the Low
Evofem Biosciences, Inc. (EVFM)