Pets & Protein
#1 Global Animal Pure-Play at 10% off
Americans will spend $62.75B caring for pets this year
Total pet industry expenditures double every 12-15 years
China and India driving significant new demand for animal health as diets pivot to protein
Three companies control more than half the global market for animal related expenditures
My friend Paul is veterinarian. He breeds labs for fun, but golden retrievers are his favorite… they're good for business. Goldens will eat just about anything if given the chance, and since surgery to remove a swallowed tennis shoe costs about $4,000, the more goldens the better. I asked him if customers ever balk, and he assured me people rarely worry about price when caring for their dogs. It's one reason why the American Pet Products Association pegs total annual spending on pets at $62.75B… and that's just in the U.S. Add spending globally, plus investment in herds producing food, and you realize this is a very strong industry.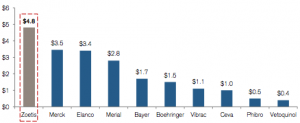 Zoetis Inc. (ZTS) dominates the animal health business, with $4.8B in revenue and a global market share of 23%. It's also one of the few animal pure-plays among top producers of medicines and vaccines, having been spun-off from Pfizer in 2012. Bankers priced the transaction to reflect a market cap of $2.2B. Today enterprise value tops $28.9B. I can think of few other companies which have increased their footprint fifteen-fold in the past four years.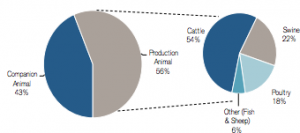 The company is effectively two animal businesses in one: Companion animals (pets) and production animals (food). The pet-care business represents 43% of revenues and enjoys EBITDA margins of up to 30% –again, people are generally willing to spend a premium for their pets. The production animal business generates the other 56% of revenues and includes feed additives and parasiticides. These are administered to large herds and margins are closer to 20-25%.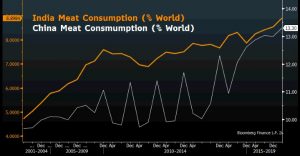 As Americans reach deep into their pockets to protect pets, consumers in China and India are reaching even deeper into theirs… for food. An emerging middle class can now afford protein. Meat consumption in both countries has risen dramatically over the past fifteen years –in India it has doubled. China and India account for 36% of the world's population (9x the U.S.) but just 22% of the world's meat, beef and veal consumption (USDA data). Expect increased protein demand from emerging markets, and increased sales for Zoetis.
Recent Upgrade
Credit Suisse analyst Mark Wallach added Zoetis to its Recommended List just last week, and this is exactly the kind of company I have been looking to buy. In addition to a strong fundamental story, it's completely unaffected by the all-consuming Fed Rate Debate and operates far from the preying eyes of regulators. Zoetis has no health care reform risk or election exposure. It's a dominant player in a global business which literally touches billions of people. To quote Mr. Wallach:
As the leader in animal health, ZTS is highly levered to rebounding industry fundamentals, and earnings growth should accelerate over an improving cost and capital structure. Our focus is on under-appreciated efficiency initiatives that should drive over 737 bps in operating margin expansion in 2016 and 2017, a considerable feat for a company of its size that ensures double-digit EPS growth in 2017 and beyond.
Okay, targeting significant margin improvement cuts both ways. On the one hand, management is defining a specific catalyst for earnings improvement and this is quite positive. On the other, sucking 737 basis points of costs out of any operating business over two years creates raises a high bar for execution risk. CEO Juan Alaix ran Zoetis back when it was still part of Pfizer. He's been at the helm for 9 years and he built the company into THE largest player in the industry. If anyone know which levers to pull, it's him.
So in spite of being an exceptionally strong business, Zoetis is also a "Show Me" story, which I suspect explains why it trades at a discount of 10% versus peers… 21.6x the 2017 consensus estimate of $2.33/share. I should also note year-over-year earnings growth estimates of 22% clearly reflect a combination of 7% top line growth and Mr. Alaix's cost initiative. Analysts are giving him the benefit of the doubt. So are the top five shareholders, three of whom added significantly in 2Q. T. Rowe Price bought 10.6M shares and now owns 6.3% of the company. Vanguard and Lazard each bought 1.7M shares.
Buy the Stock
Look, this is a GREAT business and Zoetis is the global leader. I'd love to buy it a little cheaper, but wouldn't we all. Write the $50 October puts at $1.00 if you want to leg into the position, or start accumulating on down days. Its beta is 0.89 and the market has become increasingly more volatile, so you'll have opportunities to buy in the upper 40s ahead of the election. It's $50.50 today.