Sample Issue

Bullseye explores American Ingenuity… people and companies transforming our world. When I find a stock with a great story, supported by compelling data and a newsy hook, I write it up as a Bullseye pick and put it in the portfolio.
Executive Summary
---
1. Time to Smile  –

SmileDirectClub, Inc, (SCD)
Innovative solution for the world's #1 medical condition.
2. Resolution Not Recession –

Freeport-McMoRan Inc. (FCX)
My proxy for US-China relations and global growth.
3. Gift That Keeps Giving –

Cheniere Energy, Inc. (LNG)
Seven roundtrips in two years and I'm buying it again.
Actionable Trades
---
BUY
Cheniere Energy, Inc. (LNG) – I will buy this new tactical position $57-60… and look to sell $67-70 for a seventh time in two years.
Freeport-McMoRan Inc. (FCX) – I want to buy this new position opportunistically in the low $9s.
Neoleukin Therapeutics (NLTX) – I'm building this position in the mid-$2s.
SmileDirectClub, Inc. (SDC) – I will gradually accumulate shares in this new position under $12.
ViewRay Inc. (VRAY) – I'm building this position in the mid-$2s, accumulating shares on down days.
SELL
Bank of America (BAC) – Approaching my $35 target, at which point I will sell half.
Intel Corp. (INTC) – Approaching my $60 target, at which point I will sell half.
Lumentum Holdings Inc. (LITE) -Approaching my $70 target, at which point I will sell half.
Qorvo Inc. (QRVO) – Rises well above my price target on strong earnings guidance, so I sell half and will work the balance higher.
Bullseye View
---
S&P 500 Index 3,061

+22.11%

YTD
It's Happening – The S&P has been trying to squeeze its way higher since May, approaching 3,000 on three occasions but never quite pushing through. That changed last week, as Banks and Semiconductors led the broader market higher. I think trade has a lot to do with this, since even a pared back Phase One agreement de-escalates tension and removes doubt about the viability of global supply chains. Companies will be able to begin re-allocating pent-up capital, and it's happening just in time for a new fiscal year. Again, this is very positive. While I admit that impeachment provides a considerable caveat, I think trade and rates are ultimately more important for stocks… especially since a Republican controlled Senate is not likely to produce the requisite two-thirds majority needed to unseat President Trump. Thankfully, commerce matters more than politics.
10-yr Treasury 1.71% (vs. 3.21% 1-yr ago)
One and Done – Fed Funds futures peg odds of another rate cut over the next 12 months at just 26%. In plain English, the Fed is probably done. I am thrilled with this development for two reasons. First, it suggests the three cuts since July have constituted a mid-cycle adjustment, not the beginning of an extended effort to stave off imminent recession. Second, as my friend Chris Verrone of Strategas Research observed in a recent note to clients, stocks have historically returned 14% in the six months after the Fed cuts rates three times and then stops. Think of it as just the right amount of medicine to get the patient out of bed and back to work.
Dollar Index (DXY) 97.18 +0.96% (1-yr chg)
It's Not About "US" – The Dollar Index has dropped 2.5% over the past several weeks, and that's a significant move for the world's reserve currency. However, I think this decline has more to do with what's happening overseas, than with what's happening in the US. European banks have stabilized, and even EU Industrials are rising. Long-somnolent Japanese equities are rallying. The US and China are finally making nice… or so it seems. As the world emerges from an admittedly notable deceleration in growth over the past 12 months, the dollar's safe haven appeal is fading. The dollar index could slip another one percent to 96, since that's where it formed a base earlier this year, but reserve currencies rarely fall far.
Gold $1,512/oz. +21.41% (1-yr chg)
All-in – Last month speculators were long the most amount of gold since 2016… and they're still holding on. Gold has traded plus/minus $1,500 since August, and technical traders assure me it is forming a base before resuming another leg higher. Okay fine, maybe they are right, but I remain skeptical. Gold is still $400 below the all-time high from 2012, and given everything that's happened over the past year… negative rates, trade war, Brexit, LatAm instability, etc… shouldn't it already have gone there? Buy gold as a hedge if you are extremely bearish, but don't expect it to make you rich. I prefer to bet on American Ingenuity.
Oil $55.28/bbl -13.22% (1-yr chg)
Macro Angst – Oil has become the tip of the spear for anyone betting on global recession. These eager beavers… I mean bears… argue that two consecutive months of falling output from US manufacturers foreshadow broader declines for the economy, causing oil demand to implode.  Sorry, but a potential 1% decline in global GDP over the next two quarters does not justify a 15% decline in oil prices right now. I am long several energy names which are wonderful businesses trading at historically low valuations. I own them because I think the economy will continue to expand longer than many expect.
Bullseye Performance
---
Current Picks

Closed Picks YTD




*Dividends paid and option premium written reduces basis when applicable.
---
Time to Smile



Cheaper Than Braces
Three-quarters of the world's population has crooked teeth and would benefit from corrective intervention

Only 1% of patients who need braces actually get them due to limited orthodontist access and/or high cost

An estimated two-thirds of all cases could be addressed by aligner/retainer therapy at significant savings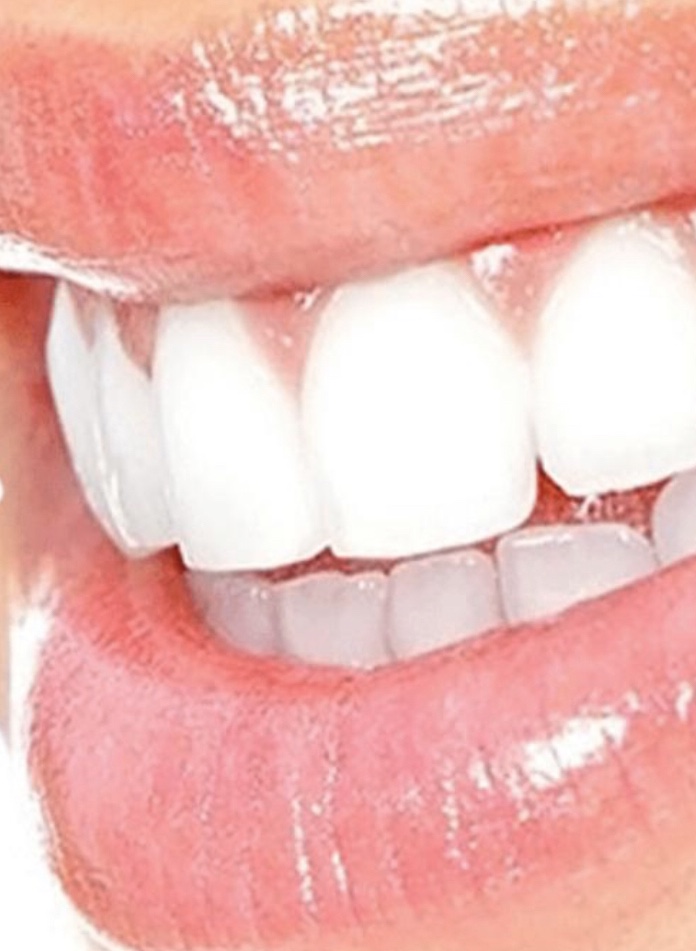 Smile! – I recall visiting the dentist when I was about seven and being told my mouth was a Dentist's Dream… my teeth were straight, showed no signs of cavities and required only one check-up annually. I actually responded that sounded more like a Dentist's Nightmare, on the assumption he couldn't charge my mother for additional services! They both laughed, commenting I was a good capitalist, and somewhat of a unicorn as well… dream teeth are rare. An estimated 80-85% of the world's population suffers from misaligned teeth to some extent. However, corrective braces can cost upwards of $9,000, and require as many as 15 trips to the orthodontist over 2-3 years. That's a tall order for any family, and not surprisingly only about 1% of patients who need braces actually get them. Recently however, improvements in 3D printing have enabled the dental community to start offering corrective retainers which can reposition teeth over time at a fraction of the cost. These clear plastic aligners typically work for about two-thirds of patients, which dramatically increases the number of people who can show their pearly whites with pride.
SmileDirectClub, Inc. (SDC) debuted as a public company in September, the first direct to consumer provider of customized corrective teeth aligners. Patients either use a home-kit to make molds of the upper and lower sets of teeth, or visit walk-in clinics located mostly in CVS/Walgreens pharmacies. The company then fashions a series of about a dozen individual retainers, each with a slightly different shape meant to shift teeth over time. By the end of a typical 6-9 month treatment period, patients enjoy palpably successful outcomes at one-quarter the cost of traditional braces. Given the size of the addressable market, the opportunity for Smile Direct is significant.
SmileDirectClub is highly disruptive to standard treatment protocols, and as such has been greeted with mixed reviews. Patients love it, orthodontists hate it. Traditionally, patients visited an orthodontist, received braces over several weeks, and then returned for regular tightenings every 6-8 weeks over 1-2 years until the teeth were moved into correct alignment. It's tried and true process with excellent long-term results, but takes significant time and costs up to $8,500. Several years ago, Invisalign introduced the concept of custom retainers fitted by an orthodontist, saving customers both time and money… about 50%. Now SmileDirect has cut this cost by another 50%, bypassing traditional doctor visits by enabling in-home molding kits and doctor consults via smartphone. 
Treatment Costs Less
SDC vs Alternatives


SmileDirectClub provides the only fully vertically-integrated solution for corrective teeth realignment in the market today. It literally controls the entire process, from initial consultation to fabrication and follow-up.
On-Boarding

– The company direct-mails its home-kits to patients, or sees them in its own pop-up clinics.

SmileShop

– 300 walk-in clinics currently handle 90% of all customers. Many are in CVS and Walgreen stores, adjacent to immediate-care clinics which see significant foot traffic. Another 1,500 SmileShops are planned.

Retainer Fabrication

– SDC operates its own in-house manufacturing facility in Costa Rica, using CAD-enabled 3D printers. The facility is staffed by 85 licensed physicians and several hundred full-time technicians.

Patient Touch-Point

– 240 board-certified orthodontists residing in the state/country where the patient is located sign off on the specific set of retainers and speak with individual patients via smartphone. Over the course of treatment, these check progress via texted photos from patients and live conversations. These independent professionals receive a monthly retainer from SDC, and sign 18-month non-compete agreements.

SmilePay

– About two-thirds of patients choose to finance their $1,895 treatment using SDC's own credit facility. No approval is necessary, and patients pay $250 up-front, then make monthly payments of $85. The default rate is 9%.
Seeing Is Believing
Before and After


Three states have intervened to prevent residents from using SmartDirectClub's product, asserting that "moving teeth" must be done under the the direct supervision of a board approved orthodontist. California has been most aggressive, requiring an x-ray from an orthodontist, while Georgia and Alabama have ruled that patients must visit an orthodontist for the initial fitting. Neither of these conditions is exceptionally onerous, though even one office visit can increase the cost by several hundred dollars. The company has countered that 60% of the population does not live within 50 miles of an orthodontist, and amicus briefs filled by the Department of Justice in AL and GA side with SmileDirectClub. Pending Federal lawsuits filed by the company, Alabama and Georgia residents are able to proceed without direct doctor supervision. California is the only state where SDC's direct to consumer option is unavailable to patients.
The potential profit upside to SmileDirectClub is significant, especially since 80% of the population needs corrective treatment… two-thirds of whom can be sufficiently served by retainers… and only 1% of the population currently pursues treatment. SmileDirectClub has a legitimate pathway to 50-fold growth, from current annual sales of $1B.
Potential Upside
SDC's Pathway to Profits


Investors are not buying this story, and the stock has fallen 50% from its IPO price. I recognize the past three months have been cruel for IPOs… Uber, Lyft, WeWork… but clipping a growth stock by 50% to less than half the value of next closest competitor Align Technologies, Inc. (ALGN) seems extreme. Here's how I quantify the risks.
Potential Downside
SDC's Risks


The Trade
Buy SmileDirectClub, Inc. (SDC) $9-13 with $40 target and $8 alert.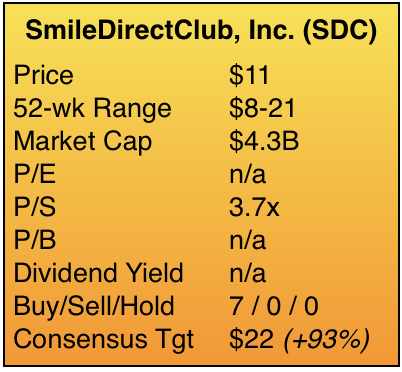 SmileDirect has significant long-term upside. If SDC captures even a fraction of the potential 47-fold increase in revenue noted above, it should rise well above the current $11 price. From a valuation standpoint, SDC trades at 3.7x 2020 estimated sales. Assuming 30% growth through 2025, the firm could reach $3.7B in revenue by 2025… about 15% LESS than current market cap of $4.3B. Given that most medical drive companies trade at 4-6x their revenue generating potential, I'd say SDC is about 75% too cheap… hence my $40 target. This is nearly double Wall Street's 12-month consensus of $22.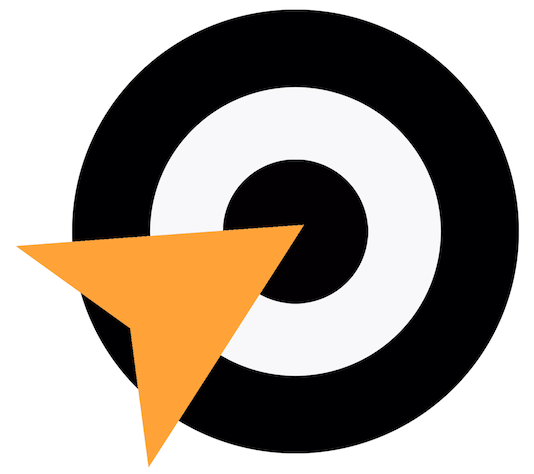 Ready to Smile?
SmileDirectClub, Inc. (SDC)

---
Resolution Not Recession

Leveraging Global Rebound
Copper correlates directly to the economy as an essential component in buildings, machinery and devices

Trade normalization between US and China could re-accelerate global growth and stoke copper demand

Copper's supply/demand deficit has persisted since 2009 and is unsustainable longer term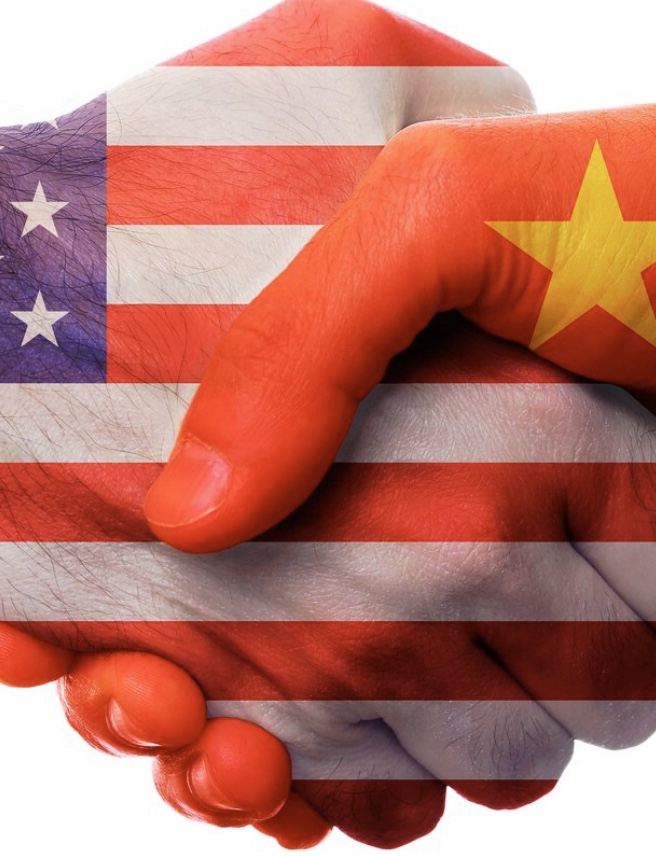 Keep It Simple – For many years I worked under a stock picking mentor who espoused a strategy he called One-Word Investing. He'd identify a driving theme in the markets… distilled into one word… and buy the two or three stocks most leveraged to the concept. Think Banks for a rebound on T.A.R.P. guarantees in 2010, or Steel for a rally after the Trump election in 2016. Each of these sectors posted massive gains, largely because they leveraged a dominant change in policy. Today the defining theme is Trade, or more specifically trade resolution between the US and China. Already, industrial stocks are rallying in anticipation of a deal, and Caterpillar even managed to trade higher after posting weak 3Q results. A US-China deal not only provides clarity for businesses looking to deploy capital, it likely jump-starts global manufacturing and forestalls recession. This in turn creates demand for vital inputs like copper, the one metal found in every virtually every device. See how the daisy chain works? Trade is the theme, copper is the play… and the #1 copper mining company in the US generates the leverage.
Freeport-McMoRan, Inc. (FCX) is the world's largest publicly traded copper mining company, surpassing even state-owned Codelco of Chile. Because copper wiring is essential to every building, machine and electronic device, it's often seen as a proxy for global economic health. The stock has fallen 80% from all-time highs, and recently traded at a four-year low on concerns around slowing growth per IMF forecasts. I believe this pessimism is overstated. I don't see recession in 2020, and I believe the resumption of normalized trade relations between the US and China will unleash pent-up economic growth. This will be bullish for copper demand, lifting copper prices and therefore boosting Freeport cash flow. In short, Freeport is my proxy for Trade.
What, Where & Who
Freeport Money Mines


Freeport is a US-based copper producer with a global footprint. While China accounts for only 5% of Freeport's annual sales, the copper market is highly liquid and extremely efficient, so any uptick in Chinese demand or clarity in China's relations with the US impacts Freeport. The company noted during its second quarter earnings call that each 10 cent rise in the price of copper raises EBITDA by 5%, or $335M. Similar percentage increases in the price of molybdenum and gold add an additional $50M respectively. That's significant operating leverage.
Several important macro developments point to a potential rebound in copper prices over the next 12 months.
End of China's Down Cycle?

– Much has been said about slowing growth in China, where GDP has slipped from 8% to 6% since 2016, though evidence suggests this trend may be reversing. Chinese manufacturing PMIs have been declining and/or contracting for 24 months. Previous down cycles in 2009/10 and 2013/14 lasted 25 months, then reversed. In other words, China is due to rebound… and since China accounts for up to one-third of global copper demand, its potential impact on pricing is profound.

Trade Clarity

– Resolving tensions between the US and China will provide clarity to companies which have postponed capital expenditures. I believe this is why US manufacturing has contracted two months in a row, and removing this overhang represents a SIGNIFICANT positive for the global economy… which by extension is a positive for copper and FCX.

Copper Supply Deficit

– Global copper demand has exceeded production by 15-20% every year since 2009, so the world has been steadily drawing down copper inventory and/or recycling existing copper to make up the difference. This is unsustainable long-term.

Insufficient Capital Investment

– Most mining executives will argue that sub-$3/lb copper prices do not sufficiently incentivize long-term capital investment essential to developing new sources of supply. They are tacitly admitting they are underinvesting, and they also telling us prices will need to rise. There's not enough existing supply.

Electric Vehicle Demand

– EVs hybrids still only account for 1% of all vehicles on the road, but they require four times the amount of copper compared to internal combustion engines (200 lbs/vehicle vs 50). Buses and trucks require 8-10 times. IF EVERY ONE OF THE WOLRD'S 100M CARS PRODUCED ANNUALLY WERE ELECTRIC, COPPER DEMAND WOULD RISE 50%.
Bull Case for Copper
Global Supply/Demand


Global supply/demand forecasts illustrate that the current sub-$3/lb price for copper is not sustainable long-term. The question is, when will mining stocks start pricing in a tighter future? I'd argue we may be getting close. Investors will want to jump on changing fundamentals, and they will start buying the stocks in anticipation… especially since many trade at multi-year lows. As the world's largest copper mining company, Freeport-McMorRan is the obvious proxy, and resumption of trade relations between the world's two largest economies could prove an important catalyst.
Additionally, Freeport is on the verge of becoming significantly more profitable. The company has embarked on a broad-based program to integrate artificial intelligence into how it manages nearly every aspect of mining activity. The company is also switching the massive Grasberg Mine in Indonesia from a strip mine to an underground operation, and bringing its new Lone Star project online in Arizona. The company's goal is to double cashflow from these changes, even if copper holds steady at current prices.
"There's something that's really exciting. We are using machine learning, or A.I. to coordinate innovation-driven productivity improvements, applying the company's experience of over 35 years to enhance infrastructure techniques, undercut blasting and cave management. This is one of our three major initiatives right now. Second, our Grasberg underground ramp is on schedule. Third, the commissioning of the Lone Star project is expected to begin producing copper next year. Success in these would result in a 30% increase in copper production, 70% increase in gold production, 25% reduction in costs and a doubling of cash flow generation. This is all within our grasp."
— Richard Adkerson, President and CEO Freeport-McMoRan, Inc.
Third quarter earnings call (October 23, 2019)
The Trade
Buy Freeport McMoRan, Inc. (FCX) under $9.50 with $15 target and $7 alert.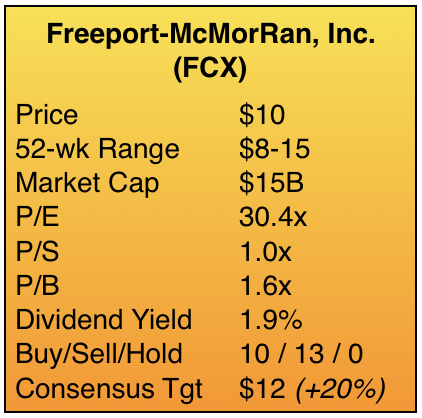 Freeport could have 50% upside. The stock trades at 4.9 times 2021 EBITDA, which is the first full year that the company's three-pronged initiative is likely to take hold. Historically the stock has averaged 6.2 times EBITDA, meaning it's about 25% below its typical valuation multiple. If the company is really able to double cashflow, it probably deserves another turn, to let's say 7.2x. That would imply a rise in the stock price of 45%, to nearly $15, which also coincides with this year's high.
I will buy stock under $9.50. Markets are sufficiently volatile that headlines around trade could easily push the stock up or down 10% on any given day. Looking at the chart, I believe it's in a bottoming process.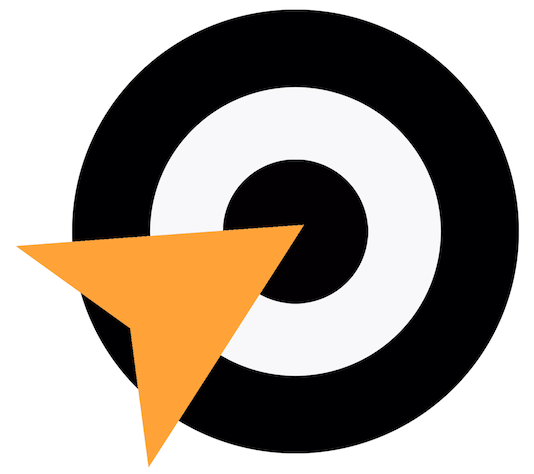 Mining for Value
Freeport-McMoRan, Inc. (FCX)


---
The Gift that Keeps Giving

Energy's Reliable Range Trade
Oil tends to trade between $50-$70 as falling prices curtail production while rising prices do the opposite

Energy stocks tend to echo underlying commodity price changes though often with greater volatility

The nation's first LNG exporter runs a very predictable business model yet its stock gyrates considerably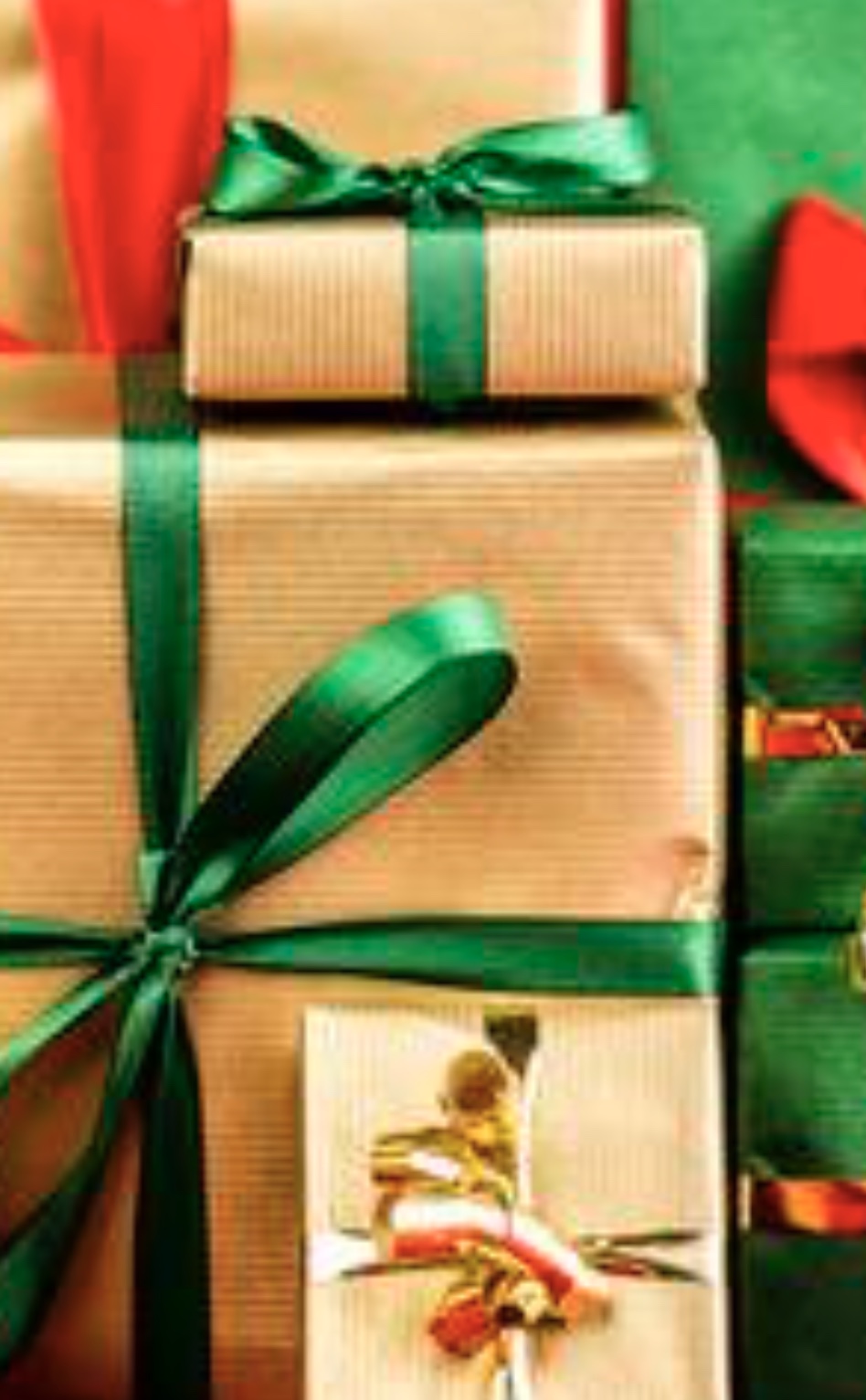 One the energy sector's most pioneering companies in decades has become one of the stock market's most reliable trading vehicles in 2019. Several years ago I bought this stock as a ground-breaking play on US energy exports, something that had previously never been allowed on national security grounds. Eventually I booked a long-term capital gain and moved on. Then in June I returned as a tactical investor, buying at $58 and selling at $68 just three weeks later. Now I'm back for a third time. In fact, there have been eight such moves over the past two years, and while I'd love to simply own this ground-braking company for the long haul, I also enjoy booking gains with regularity… or at least trying to. Given the volatility of markets as we await progress on trade, I am happy to add a trading vehicle to the portfolio.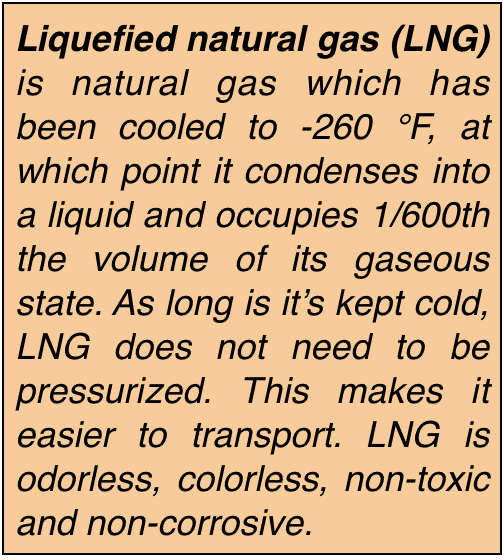 Cheniere Energy Inc. (LNG) is the first-ever US exporter of liquified natural gas (LNG)… hence its stock ticker. The company currently operates several production lines at its prime terminal in Louisiana, and it is adding additional capacity in Texas. Cheniere has brilliantly matched long-term supply contracts from US producers with long-term sales contracts to major overseas buyers, enabling it to run a near-perfectly balanced business model.
That said, the stock trades all over the map. The slightest headline (company-specific or otherwise) can send shares up or down 10-15% within a couple of sessions… then back again several days later. If the business weren't so steady, this kind of volatility would drive me crazy, but in Cheniere's case I can actually embrace the action. Management's proven ability to execute gives me confidence to go against the grain and buy the dips.
Trading Vehicle
Cheniere Energy Inc. (LNG)


Recent downdrafts have sent shares into the $50s, but not for long… days or weeks later they're back to $68. Knee-jerk traders incorrectly assume that Cheniere's stock price should reflect the price of oil, but it shouldn't. The company is much more of a toll collector than a price-sensitive producer. Let me explain why.
What Cheniere Does – The company buys natural gas from US producers… converts it into liquified natural gas so it's easier to ship… then sells it to utility buyers overseas who have little or no domestic natural gas. These contracts are written for 20 years, giving Cheniere unprecedented earnings visibility.

How Cheniere Makes Money

– 85% of all natural gas bought by Cheniere domestically is priced at a spread vs. the Henry Hub futures, and then sold internationally at a higher spread which reflects transportation and processing costs. As a result, the vast majority of Cheniere's profit margin is locked-in. The remaining 15% of capacity floats with market prices, creating a call option on rising demand over time.

Why Cheniere is Unique

– The company was the first to build US LNG export facilities and the first to lock-up long-term contracts, proving an enormous first mover advantage. Managment has chosen to add capacity incrementally only after signing simultaneous supply and demand contracts, enabling it to obtain significantly cheaper financing. To date, construction has progressed on-time and on-budget.

Where Cheniere is Going

– The company currently operates five processing "trains" at its Sabine Pass facility in Louisiana. A sixth is under construction, and a total of nine are planned. Three additional trains are under construction at a second facility in Corpus Christie, Texas, one of which will come online later this year (permitting allows up to five ultimately). All trains share the same economics, meaning construction has been fully backed by long-term buy/sell contracts.
Cheniere is a profit machine. Earnings estimates of $2.24 next year imply 276% growth, and 2021 earnings could rise an additional 40% to $3.75 as more trains come online. Twenty of 22 analysts rate Cheniere a BUY, and their average target is $81, providing potential upside of 33% from the current price.
Are there risks? Yes. Super-cooling natural gas in processing units up to one mile long is risky by definition, as is shipping hydrocarbons half way around the world. Additionally, debt is fairly high at 9x EBITDA, though leverage declines to 7x next year as more trains come online and generate cashflow. Finally, declining natural gas and/or Brent crude prices in the future would erode Cheniere's implied call option on the 15% of its capacity which is unhedged.
The Trade
Buy Cheniere Energy (LNG) $56-60 with $68 target and $54 alert.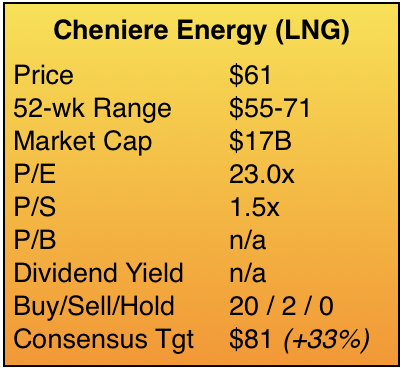 This is a tactical position. I am looking to buy Cheniere only on a dip into the upper $50s… no dip, no trade. I will look to sell as the stock approaches $68.
There have been several such opportunities over the past twelve months, and I and writing this report now with the stock ABOVE my buy zone in order to open the door to a potential, timely purchase in the future. Cheniere is extremely volatile, and it's a stock I want to own it on selloffs.
Finally, if volatility and buying in the hole make you nervous, this is not for you.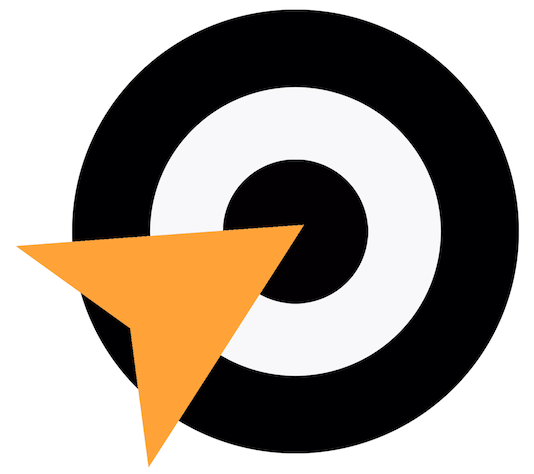 Enjoy a Free 45-Day Subscription to Bullseye Brief