Sample Issue
Modern-Day Midas
Betting on Mindy
Mindy Grossman will join Weight Watchers International Inc. (WTW) as CEO effective July 2017

Her growth initiatives at HSN, Nike and Ralph Lauren generated hundred of millions in profit

The combination of Oprah as spokesperson and Mindy as CEO creates unparalleled potential

Excess weight costs the U.S. healthcare industry $147B annually and creates ample opportunity for WTW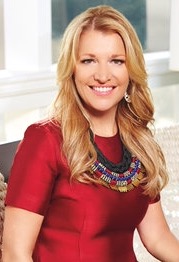 The first thing she did was power wash the buildings. Then she blew up the brand. Incoming CEO Mindy Grossman arrived at Home Shopping Network's sprawling west Florida campus in 2006 and couldn't believe her eyes. Years of neglect had turned pink stuccoed studios so green from mildew employees didn't know the difference. Declining sales and a string of several CEOs over several years had left the company demoralized and rudderless. So Mindy cleaned the walls… AND built a new cafeteria… AND a state of the art call center. Then she upgraded what they sold and how they sold it, with a particular emphasis on lifestyle. Along the way, sales began to climb and Wall Street took notice. Shares rallied from low single digits in 2008, to $80 by 2015. Harvard Business School students will study her HSN turnaround for years, and soon they'll have something new to ponder. Ms. Grossman joins Weight Watchers International (WTW) as CEO on July 5, and already the stock has rallied 30%. We don't know her plan yet, but we do know her playbook, and the early buyers have this one right. Buy it. She's a modern-day Midas.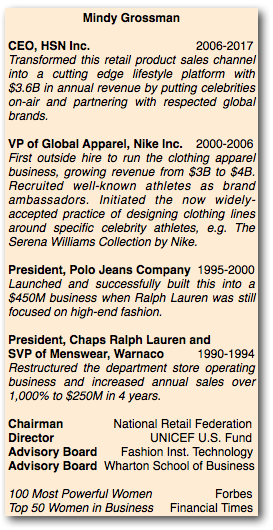 Mindy is a force of nature. We met while I was anchoring the afternoon program at Bloomberg Television several years ago. As my producers and I listened to her talk about the HSN transformation, we all decided to take a film crew to Florida and let viewers see the changes for themselves. We were filming a segment in one of the HSN control rooms, a behind-the-scenes look at How They Do It, when she grabbed me by the arm…
"I had this a-ha moment watching the Food Channel. Wolfgang Puck was talking about his new collection of knives as he made pizza, and It all felt so comfortable. That's when it dawned on me. We're not selling knives, or pizza, or whatever. We're selling lifestyle. Great products. Great brands. Great storytellers."
Btw, if the name Grossman sounds familiar, it's because her husband Neil Grossman proposed the highly profitable 2×1 put spreads on the banks during last month's podcast, just before their 15% swoon. She's a visionary CEO, and he's a former PM at the world's largest sovereign wealth fund. Quite a couple.
Weight Watchers may strike Mindy-Watchers as a curious choice given the number of companies reportedly wooing her in recent years (JCPenny, Sears, Target) but it actually makes perfect sense. Mindy is a creator. She built Polo Jeans from scratch and turned it into a monster business for Ralph Lauren. She introduced exclusive Nike clothing collections for Serena Williams and Maria Sharapova, something Nike had never done before.
The deals were big and they were ground-breaking, but Mindy was just getting warmed up. She set her sights on Hollywood. At HSN, Mindy reached out to major studios and created cross-branding partnerships to coincide with blockbuster movie releases.
As Frozen took the country by storm and little girls everywhere became mini Elsas, HSN had dresses, jewelry and crowns so they could play the part.
When the Wizard of Oz remake hit theaters, HSN hosted the opening party and featured jewelry lines inspired by the individual witches. There was clothing too, and only on HSN.
Under Mindy's guidance, HSN created groundbreaking and innovative partnerships with some of the world's most recognizable brands… Coca Cola, Disney, Dreamworks, Univision. Part CEO, part Chief Marketing Officer, Mindy masterfully weaves storylines and products across multiple mediums. I can't wait to see what how she transforms Weight Watchers.
"Technology plus experience creates meaning."
Mindy defines engagement as seamlessly connecting with every member of the community wherever they are, how ever they choose to do it… iPhones, iPads, PCs, Television, etc. From LIVE programming 24/7, to online games with other users and the ability to win points redeemable for merchandise, Mindy has figured out how to meet people where they are and to bring them into the room.
Weight Watchers is PERFECT for Mindy Grossman. Under her leadership, this company is going to become a lifestyle business, not simply a purveyor of lo-cal entrees in the frozen aisle at Stop & Shop. Whatever we think we know about Weight Watchers, we don't. She will transform this business into something totally new and much larger, the same way she transformed HSN, Nike and Ralph Lauren.
With Oprah as spokesperson and Mindy as CEO, I can only imagine the possibilities… which is the early take from investors as well. The stock has popped from $12 to $24 on a combination of better than expected earnings, a 16% increase in subscriber growth (the first YoY gain since 2011) and the appointment of Mindy as CEO. In the process, shorts have scrambled to cover their massive bet against the company, which early last year had reached 20 million shares, a staggering 74% of the float. They thought the company was done. Now it's just getting started.
Ups & Downs

Weight Watchers (WTW)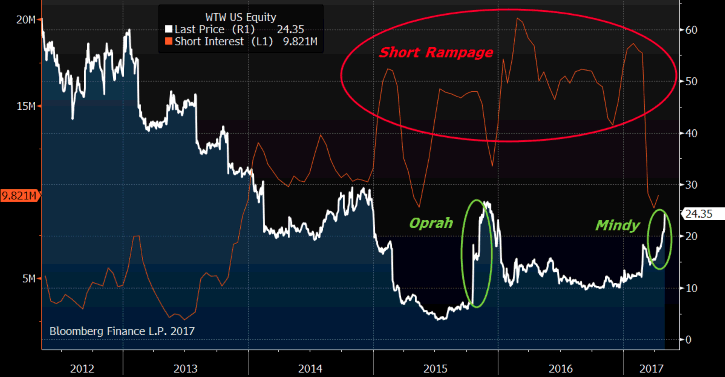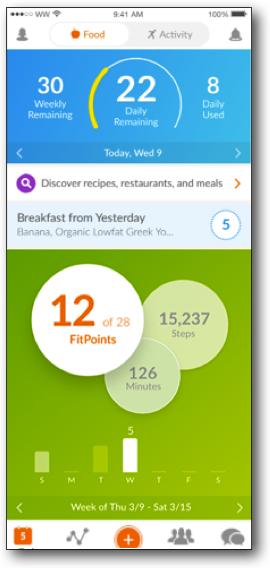 Weigh Watchers has 3.6 million subscribers who pay $12 to $45 monthly based on three primary options: Online Only, Group Meetings and Personal Coaching. Members stay in the program an average of 9 months, and their fees account for 80% of revenue. The balance comes from branded food products sold at meetings and supermarkets.
Mindy's first task will be to extend time in the program. This is the low-hanging fruit, and the company's smartphone app provides a logical pathway. For less than $4 per week, online members balance daily diet and exercise through a unique points system. Every type of food gets a SmartPoint value based on calories, saturated fat, sugar and protein. Every type of exercise gets a FitPoint value, including even unconventional exercise activities like gardening and cleaning. This kind of engagement is pure Mindy, and it lends itself her to proven strategy of extended participation through gaming. Here's her official statement on accepting the CEO position.
"I am thrilled to join Weight Watchers and lead the next phase of the Company's transformation.  This is a tremendous opportunity to leverage technology and consumer insights to create innovative personal experiences, build loyal communities and accelerate growth. I look forward to partnering with the Board – including Oprah – and the team to help Weight Watchers transform the lives of people around the world through weight loss and healthier living."
The Trade
Buy Weight Watchers $16-20 with an initial target of $40 and a stop loss at $14.
I want to own this stock as a proxy for Mindy's proven ability to grow and transform businesses. The only catch: WTW has jumped 130% since mid-December, a third of which has happened in the past week alone. I suspect the move is equal parts enthusiasm and short covering, suggesting the stock may give back some of the recent gains. As a result, I will "leg" into this position over time… buying on dips, writing puts and possibly even using her husband's 2×1 put strategy at some point. I will keep you updated.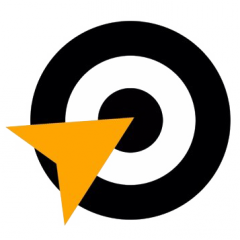 ---
Rebuilding the Body
Medical Device Miracle for Cancer Survivors
5 million patients in the U.S. suffer from chronic swelling and related skin ulcers (lymphedema/cellulitis)

Cancer survivors are especially susceptible as significant tissue removal often impacts lymphatic system

Patients require daily treatment to make up for lost/damaged interstitial filtering functions

Only one medical device company offers cost effective solution for in-home treatment

Lymphedema is unmistakable when you see it. The body loses its ability to drain excess fluids and toxins due to a damaged lymphatic system, and affected areas become so inflamed they are dysfunctional. One leg can appear totally normal, while the other may swell many times its size. Traditional therapy has focused on massage –literally forcing interstitial fluids into healthy parts of the body so they can be drained by functional lymph nodes and expelled as waste –but costs are high. A patented new device now saves time and money. More importantly it helps people get on with their lives. I interviewed the company's CEO at the NASDAQ Market site mid-January as part of the NASDAQ CEO Signature Series. I love meeting people like this, passionate innovators changing the world and creating growth opportunities for investors. What follows is a transcript of our conversation, and my take on the stock.
Jerry Mattys of Tactile Medical, what is lymphedema and how does it happen?
Hi Adam. Lymphedema is chronic swelling which occurs when the lymphatic system stops filtering excess fluids that naturally accumulate in the body. This can happen from surgery, trauma or poor circulation. It's chronic and progressive, so it gets worse if it goes untreated. We've come up with a new technology to address this condition with our Flexitouch System.
So we're talking about people with swollen limbs, who may even get skin blisters because their bodies can't filter toxins. Is that right?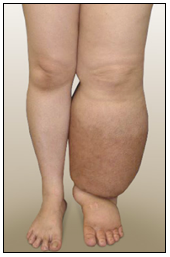 Yes, in its most extreme form, where cellulitis of the skin makes lymphedema especially difficult to treat, but discomfort even happens in mild cases. Carrying around extra weight, whether in your upper or lower extremities tends to really have an impact on your quality of life. Getting these patients treated early can stop the progression of this condition and get them back to living again.
Who typically suffers from lymphedema?
Women with breast cancer who've had lymph nodes either removed or radiated. They've had so much tissue removed –because you want to make sure you get rid of the cancer– that one of the unintended consequences is oftentimes this swelling. Then they find they're in for a much longer journey.
How does Flexitouch work?
Flexitouch is an hour a day treatment patients can do at home. It replaces a massage technique they may have experienced at the clinic called manual lymphatic drainage. It treats the condition by using pressurized wraps to push those fluids from affected areas to more normal functioning parts of the body, so the patient can get back to a more normal life. Patients are able to don and doff these devices –take them on and off– very easily at home. They're velcro adjustable and fit around the extremity or around the trunk. Patients then sit back, hit the GO button on the controller and it takes over, applying rhythmic pressure to move the fluid from the extremity back into the body where it's processed normally. Patients typically have to run to the bathroom after a one-hour treatment because it really does move those fluids.
Are there alternative treatments?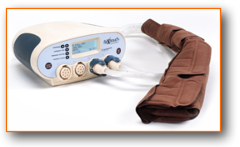 Right now patients can go to a lymphedema clinic, and they have to go on a pretty regular basis. The typical clinic will see you every day for three to five weeks… to get your limb back in control, teach you about skin hygiene and how to manage your condition. Then they send you back home, and that's where our device comes in. Patients get discharged with a Flexitouch. We've got a network of sales representatives in the field who are calling on these clinicians, and a group of over 300 contract trainers who go into the patient's home. They teach people how to use the equipment themselves and then help them on their care path forward.
Is this covered by insurance?
It is, quite typically. We have a reimbursement group that does all of the billing to lift the burden of billing off clinicians. We get a prescription from a doctor for the device, and then we go query the insurance company to see if they'll pay for it, that's called prior authorization. Once we have approval, we arrange to have the product shipped, the patient trained, and then we bill the insurance company on the patient's behalf.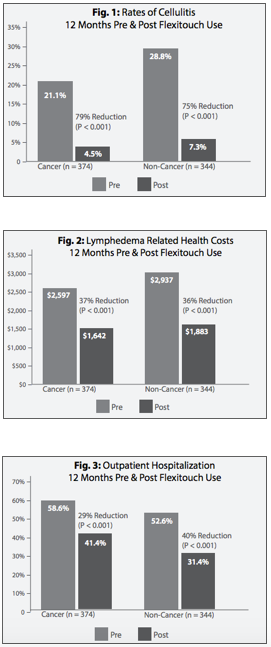 How much does this save insurance companies versus repeated trips to the clinic?
A clinic episode typically costs $3-5,000, and that's also about the average selling price of our device. We had a very strong 700 patient trial published by the Journal of the American Medical Association in 2015 that demonstrated, not only did we improve the health outcomes for those patients, but we also reduced their costs of care. These patients typically get infections in their skin called cellulitis…
Because all those toxins which are trapped seep through the skin?
That's exactly right, and by using a Flexitouch routinely you're able to move those fluids and we demonstrated a reduction of almost 80% in cellulitis episodes. So when you can talk about those kind of data with insurance companies, they understand you're not only helping patients you're helping them.
And you can keep using the Flexitouch pump year after year, so you're saving money in the long run.
Yes you are. Unfortunately this is a progressive condition for which there is no cure. This is a lifelong affliction which these patients have, and thus they need to be able to care for themselves at home.
You're a public company and there's obviously a growth story here. What's the outlook for 2017?
We've been on a terrific trajectory since going public last July. We've had two straight quarters of over 35% revenue growth. The drivers for that are threefold. One, the awareness of this condition is increasing dramatically. Two, it's estimated there are 5 million patients with this condition in the United States, and we've put about 11,000 systems on patients since 2015. 11,000 to 5 million, that's a pretty dramatic increase, and we believe we can treat many more of those patients.
So that's the runway for investors?
Yes, that's the growth. And then number three, we've just received 510(k) FDA clearance to market Flexitouch to treat lymphedema of the head and the neck. For patients who've had oral cancers, or caught the HPV virus and developed cancer, there's nothing they can do other than to go to the clinic treat to this condition. We're the first system to be approved and cleared to treat this problem, so this is very large and significant market we haven't been in before. It's estimated there are 400,000 patients with head and neck cancer in the U.S.
Four analysts rate the stock a BUY with 60-65% upside. How do you get there?
Penetrating the market we're already in is the primary way we're going to do that. We've been adding to our field organization, so we now have over 150 Tactile employees who are talking to clinicians every day to help them identify patients who would benefit from our therapies. So expanding the sales organization is one avenue. Further penetrating this market by increasing awareness is another avenue. Going after these new indications is third avenue. Also, we've only sold our product in the United States to date. One of the reasons we wanted to raise capital last year was to expand internationally, and we've not done that yet. END
The Trade

Buy Tactile Medical (TCMD) at $15 with a target of $35 and a stop-loss of $12.
I realized midway through my conversation with Jerry I wanted to own Tactile Medical, and I would write about it in Bullseye. There are 5 reasons why I like TCMD:
The company produces a unique and proven product which serves a specific market offering ample runway for growth.
TCMD is already profitable, with just 11,000 patient placements versus an immediately addressable market of 5 million.
Recent FDA approval for the head/neck indication implies another 400,000 potential patients, and the company has not even yet begun to tap the international market.
Employing a direct sales force rather than third-party marketers keeps incentive payments in-house and drives gross margins of 72%.
TCMD's integrated approach to insurance and cost-effective price point makes it an easy sell to clinicians and patients.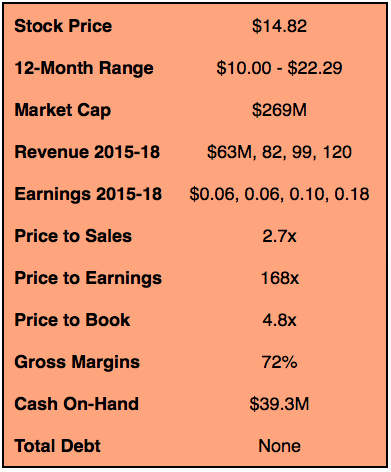 If the company continues growing sales by 35%, revenues will top $272M by 2020. Discount that amount back to 2017 at 10% and the number is $199M, meaning TCMD trades at just 0.74x forward sales… cheap.
As for what it's worth, the four analysts covering TCMD say $25, compared to $16 today. I think this is too low. The ten small cap medical device companies which comprise Bloomberg's "Best-fit Peer Group" currently trade at an average of 5.1x sales, implying a target price of $30.40 for TCMD. Critically, average top-line growth among this group is just 15% –about half that of Tactile Medical.
So TCMD is growing twice as fast, and trading at half the price. To me that's a buy… and worthy of a premium price.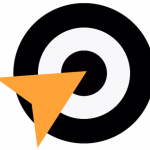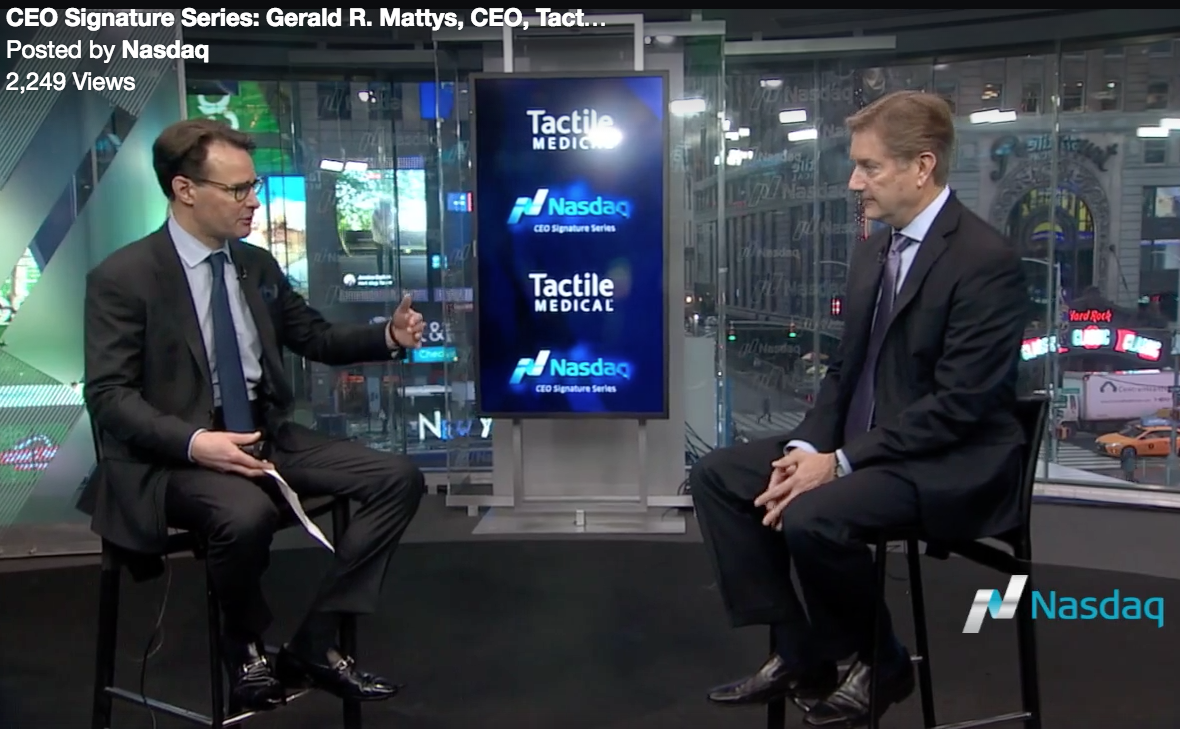 NASDAQ CEO Signature Series Interview with Tactile Medical. Click here to watch.
---
Perception vs Reality

Wells Fargo Too Cheap

Wells Fargo trades at multi-year lows versus peers and its own historical valuation

Recent concerns over falsified accounts involved fewer than 1% of employees

Congressmen up for re-election have turned CEO Stumpf's testimony into political grandstanding

The $185M fine levied against Wells Fargo amounts to less than 1% of earnings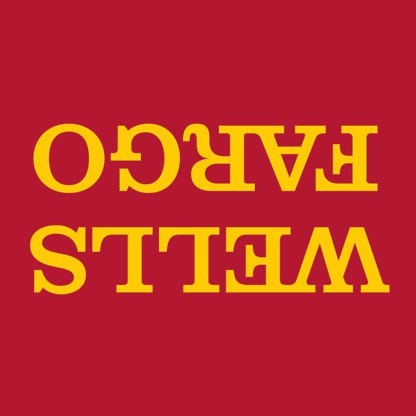 Wells Fargo & Company (WFC) was founded in 1851 to speed capital, information and people from New York to California by the fastest means possible. Ten years later the bank operated the first electronic money transfer service, and by 1918 its network of 10,000 offices served customers nationally. During the financial crisis, Wells Fargo generated profit for shareholders every single quarter. It was the only large cap bank whose executives testified before Congress they neither wanted TARP money nor needed it. Wells Fargo is the single strongest banking franchise in the U.S. and concern over what amounts to a charge of less than 1% against earnings has created a rare opportunity to buy this stellar company at a significant discount. Defrauding customers is unconscionable, but the bank has taken strong corrective measures. It is also highly capitalized, growing and cheap. BUY WELLS FARGO NOW.
Throughout the financial crisis I had the distinct pleasure of interviewing Wells Fargo CFO Tim Sloan, as anchor of Bloomberg's daily 3-5pm program Street Smart. Every quarter I'd try to find something that looked off, and he'd calmly explain why it wasn't a big deal. We'd spar good-naturedly. He knew I had a job to do, and I knew he was particularly good at his. While Citigroup Inc. (C) booked significant quarterly write-downs and Bank of America (BAC) struggled with legacy losses from to Countrywide Financial, Wells made money.
Tim is now President/COO and I write Bullseye, so talking earnings every 90 days is no longer part our modus operandi. That said, I've gotten to know his company pretty well over the years, and I have some thoughts of my own, especially as I look at the stock down about 10% versus the S&P 500 since June 30. For starters, the impact on results is immaterial:
Fewer than 1% of the bank's 265,000 employees opened false accounts all have since been terminated
False accounts generated just $5 million in ill-gotten gains… equivalent to 0.01% of annual revenues
California's decision to exclude Wells Fargo from municipal underwriting for one year represents less than $2 million in fees, 0.005% of annual revenues
Full restitution to customers affected cost Wells Fargo just $25 per false account
The penalty paid by Wells Fargo of $185M equates to $0.04/share, or less than 1% of 2017 earnings
This Rarely Happens
Wells Fargo Breaks Below Peers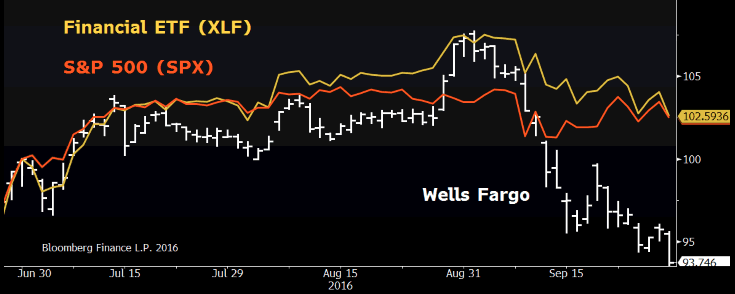 The issue with Wells Fargo is perception, especially since grilling executives twice in two weeks provides Congressmen seeking re-election ample opportunity to grandstand in front of the cameras… Bloomberg Television took it LIVE for several hours. Perception has caused this stock to sell off, not the nominal $185 million penalty or resulting $0.04 charge to earnings. Again these amounts are immaterial to an institution of Wells Fargo's size.
Wells Fargo underwrites roughly one-quarter of all mortgages in the U.S. Its unprecedented scale as the largest domestic lender will generate $20.4B of net income this year, based on consensus estimates. Only 40% of this amount is distributed as a dividend (currently 3.41%) and Tier 1 Capital of 12.81% is second only to J.P. Morgan among the mega-cap banks. Wells Fargo is exceptionally well-capitalized, and any concern about a possible snow-balling over loan falsification and its potential threat to liquidity are unfounded. Institutional Investor's top-ranked banking analyst Betsy Graseck of Morgan Stanley upgraded Wells Fargo this week, writing clients:
Wells Fargo is rarely this inexpensive and this is an opportunity. We are upgrading to overweight. Recent underperformance drives Wells' yield to 3.4%, the highest in the group. The current multiple of 10.7x 2017 earnings provides best value among peers and offers an attractive entry point for this best-in-class dividend yield. Wells should begin to find a bottom, and we see a 3:1 Bull Bear skew.

We all recognize assets are generally cheap for a reason… the house abuts train tracks, or the company's patents expire next year. However, in the case of Wells Fargo we have an exceptionally strong franchise trading at a significant discount due to headlines fanned by a political spectacle 40 days ahead of highly contested elections. Having been in the media, I am certain the camera will find a new pariah in short order. Meanwhile, investors should focus on the facts, figures and value at hand: Wells Fargo's stock trades at a 2-year low, while Price to Earnings and Price to Book have fallen to 3-year lows. Wells is also now cheap versus peers. Ms. Graysek's charts speak volumes.
How Cheap Is Cheap?
Wells Fargo Historic P/E Ratio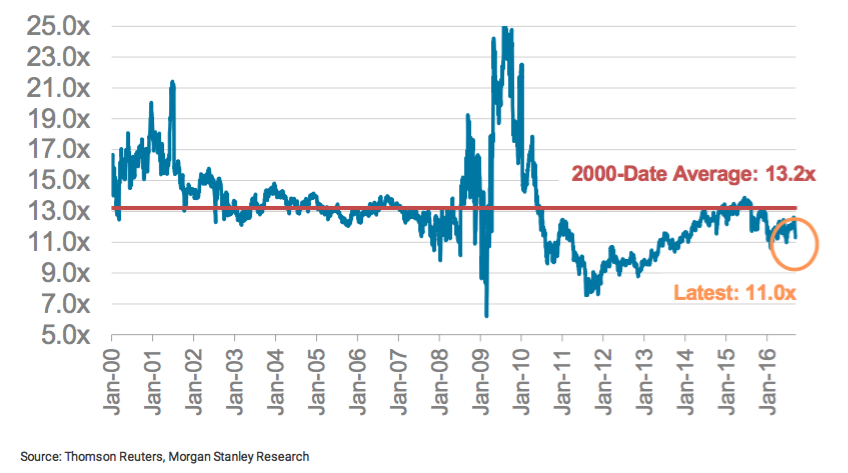 Let's not overthink this. Wells Fargo is the single largest bank in the U.S. by assets. It originates one quarter of all mortgages in this country and it is exceptionally well-capitalized. The stock trades at multi-year lows. Valuation is historically cheap by several measures. Current P/E is well below the average since 2000, and Wells trades roughly even with peers currently. It usually trades at a premium. In addition, the current Price to Book of 1.17x is below the long-term average of 1.62x (per Bloomberg data). As Betsy told Morgan customers, you rarely see a bank of this caliber trade at a discount –especially Wells Fargo.
How Cheap Is Cheap?
Wells Fargo P/E vs Peers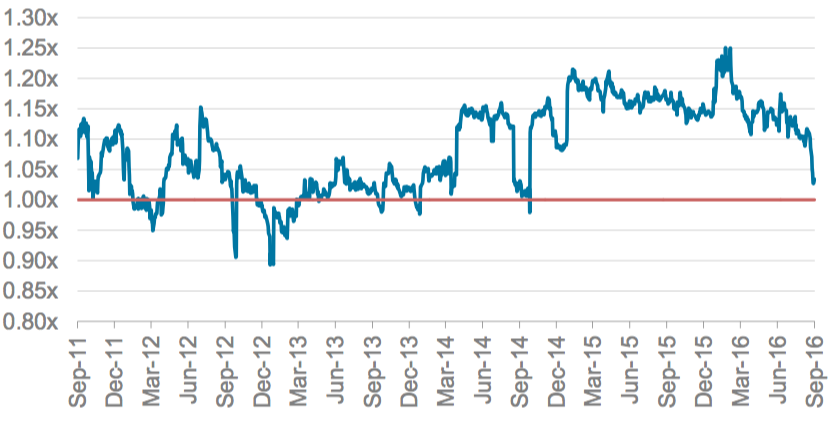 Wells Fargo currently pays a $0.38 quarterly dividend and yields 3.4%. There is no danger of a dividend cut. The bank has more than enough capital to withstand any added restrictions or additional fees/penalties. Morgan Stanley and others have written publicly they believe regulators will not impose further charges. In an effort to move forward, the bank has already taken corrective measures of its own, firing 5,200 employees and announcing upper management will forgo bonuses this year. Additionally, all affected customers have been credited the full $25 cost they incurred. ATMs offer an apology on the home screen to all users. In an ugly situation, Wells Fargo is doing the right things.
Critically for investors, Wells Fargo has stopped falling on bad news… Stumpf's second day on The Hill was a circus, Illinois and Connecticut may join California in suspending municipal underwriting with W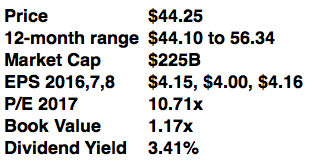 ells for a year. When stocks stop falling on bad news, sentiment has turned and buyers are committing capital. This is the clear sign of a bottomming process and Wells Fargo will not stay cheap for long.
Buy Wells Fargo while it is still below $45. My target is $55, which equates to 13.2x 2017 earnings, Wells Fargo's average multiple since 2000.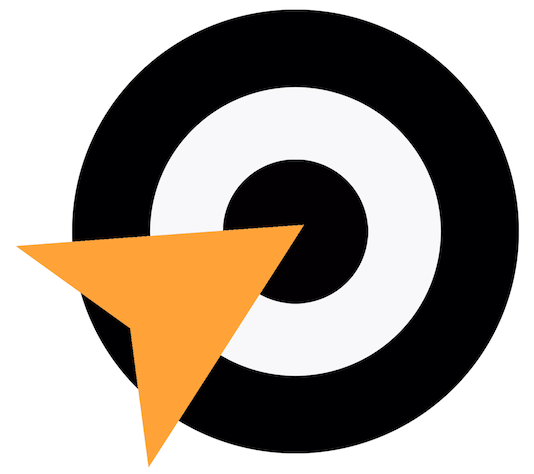 Enjoy a Free 45-Day Subscription to Bullseye Brief