Sample Issue

Bullseye explores American Ingenuity… the people and companies transforming our world. When I find a stock with a great story, supported by compelling data and a newsy hook, I write it up as a Bullseye pick and put it in the portfolio.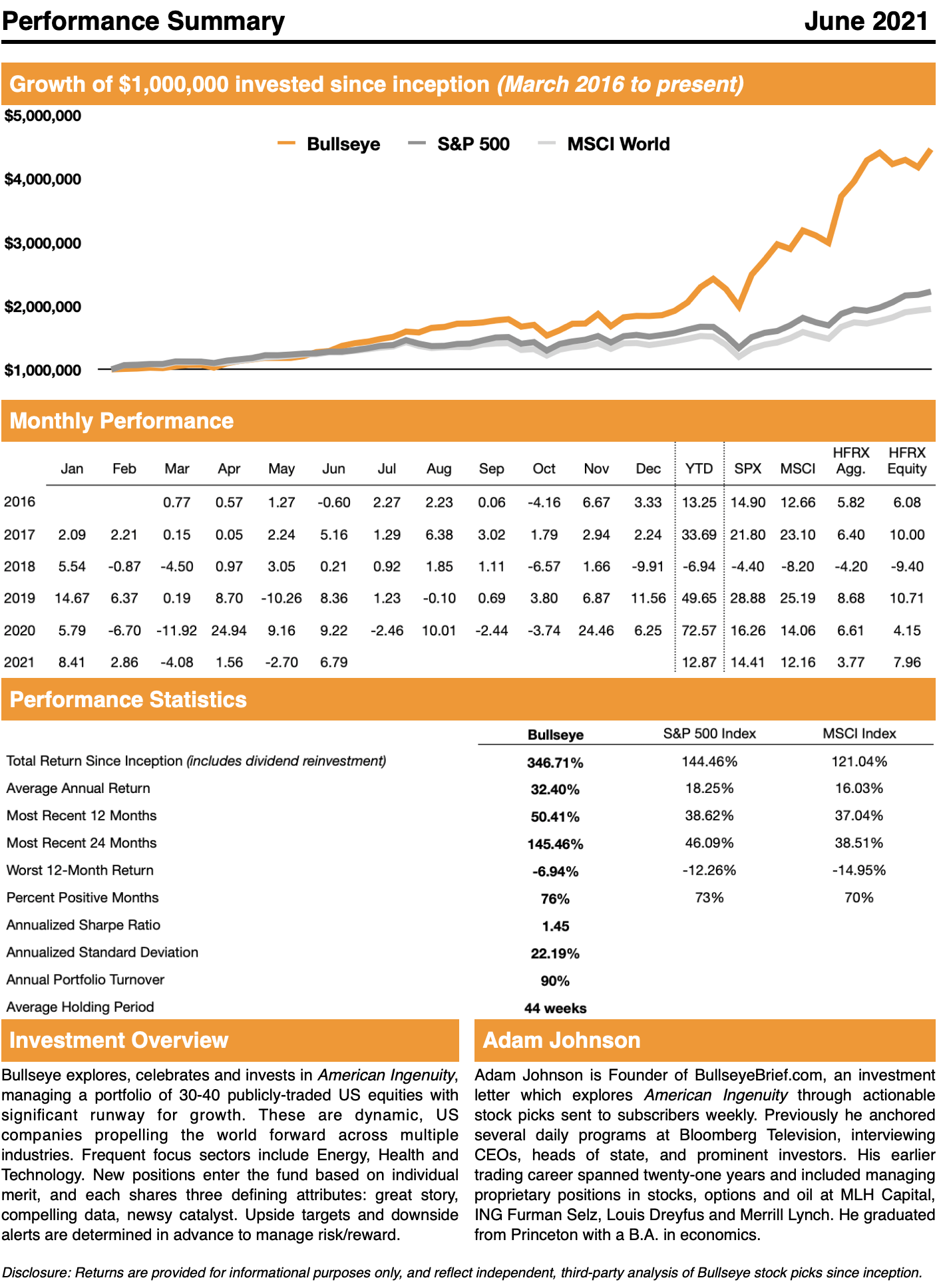 Executive Summary

(indicative only)
---
New Picks
Livongo Health, Inc. (LVGO)
Cheniere Energy, Inc. (LNG)
Actionable Trades
Buying FCX, LNG, LVGO, NLTX, SDC, VRAY


Selling BAC, INTC, LITE, QRVO
Picks Making News

AUPH, EOG, MA, NTNX, NXPI, QCOM, SDC, TRIL
Also in this Issue
– Performance (+20.88% YTD)
– Roadmap for Our Week Ahead
– Trader Talk: Resisting Group Think
– Podcast Preview: NBA MVP David Robinson on Stewardship
Bullseye View
---
S&P 500 Index 3,061

+22.11%

YTD
It's Happening – The S&P has been trying to squeeze its way higher since May, approaching 3,000 on three occasions but never quite pushing through. That changed last week, as Banks and Semiconductors led the broader market higher. I think trade has a lot to do with this, since even a pared back Phase One agreement de-escalates tension and removes doubt about the viability of global supply chains. Companies will be able to begin re-allocating pent-up capital, and it's happening just in time for a new fiscal year. Again, this is very positive. While I admit that impeachment provides a considerable caveat, I think trade and rates are ultimately more important for stocks… especially since a Republican controlled Senate is not likely to produce the requisite two-thirds majority needed to unseat President Trump. Thankfully, commerce matters more than politics.
10-yr Treasury 1.71% (vs. 3.21% 1-yr ago)
One and Done – Fed Funds futures peg odds of another rate cut over the next 12 months at just 26%. In plain English, the Fed is probably done. I am thrilled with this development for two reasons. First, it suggests the three cuts since July have constituted a mid-cycle adjustment, not the beginning of an extended effort to stave off imminent recession. Second, as my friend Chris Verrone of Strategas Research observed in a recent note to clients, stocks have historically returned 14% in the six months after the Fed cuts rates three times and then stops. Think of it as just the right amount of medicine to get the patient out of bed and back to work.
Dollar Index (DXY) 97.18 +0.96% (1-yr chg)
It's Not About "US" – The Dollar Index has dropped 2.5% over the past several weeks, and that's a significant move for the world's reserve currency. However, I think this decline has more to do with what's happening overseas, than with what's happening in the US. European banks have stabilized, and even EU Industrials are rising. Long-somnolent Japanese equities are rallying. The US and China are finally making nice… or so it seems. As the world emerges from an admittedly notable deceleration in growth over the past 12 months, the dollar's safe haven appeal is fading. The dollar index could slip another one percent to 96, since that's where it formed a base earlier this year, but reserve currencies rarely fall far.
Gold $1,512/oz. +21.41% (1-yr chg)
All-in – Last month speculators were long the most amount of gold since 2016… and they're still holding on. Gold has traded plus/minus $1,500 since August, and technical traders assure me it is forming a base before resuming another leg higher. Okay fine, maybe they are right, but I remain skeptical. Gold is still $400 below the all-time high from 2012, and given everything that's happened over the past year… negative rates, trade war, Brexit, LatAm instability, etc… shouldn't it already have gone there? Buy gold as a hedge if you are extremely bearish, but don't expect it to make you rich. I prefer to bet on American Ingenuity.
Oil $55.28/bbl -13.22% (1-yr chg)
Macro Angst – Oil has become the tip of the spear for anyone betting on global recession. These eager beavers… I mean bears… argue that two consecutive months of falling output from US manufacturers foreshadow broader declines for the economy, causing oil demand to implode.  Sorry, but a potential 1% decline in global GDP over the next two quarters does not justify a 15% decline in oil prices right now. I am long several energy names which are wonderful businesses trading at historically low valuations. I own them because I think the economy will continue to expand longer than many expect.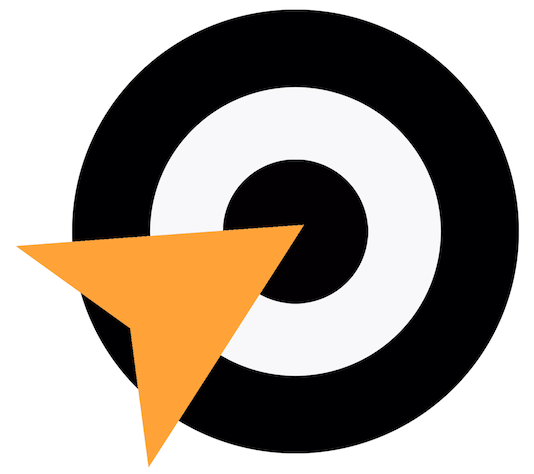 Actionable Trades
---
BUY
Cheniere Energy, Inc. (LNG) – I will buy this new tactical position $57-60… and look to sell $67-70 for a seventh time in two years.
Freeport-McMoRan Inc. (FCX) – I want to buy this new position opportunistically in the low $9s.
Neoleukin Therapeutics (NLTX) – I'm building this position in the mid-$2s.
SmileDirectClub, Inc. (SDC) – I will gradually accumulate shares in this new position under $6.
ViewRay Inc. (VRAY) – I'm building this position under $2, accumulating shares on down days.
SELL
Bank of America (BAC) – Approaching my $35 target, at which point I will sell half.
Intel Corp. (INTC) – Approaching my $60 target, at which point I will sell half.
Lumentum Holdings Inc. (LITE) -Approaching my $85 target, at which point I will sell half.
Qorvo Inc. (QRVO) – Rises well above my price target on strong earnings guidance, so I sell half and will work the balance higher.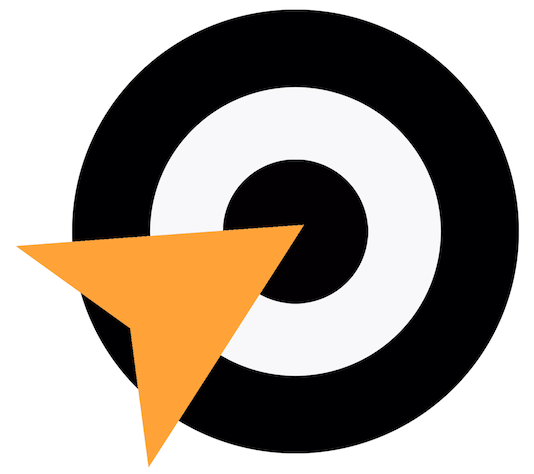 Picks Making News
---
Aurinia Pharmaceuticals, Inc. (AUPH) – Registers a $550M securities shelf to fund commercialization of its lead drug candidate voclosporin, which is currently awaiting approval from the FDA for the treatment of lupus nephritis.
EOG Resources, Inc. (EOG) – Books a $364M profit after covering previously sold hedges against 2020 production, suggesting the company sees oil rising from here. I agree. So much production has been shuttered that the oil market could be in deficit by August.
Mastercard, Inc. (MA) – Launches a new program to help retailers better manage inventory, supply-lines and even store hours by leveraging its vast global database. The program relies on AI to integrate historical and real-time data in ways which predict consumer behavior.
Nutanix Inc. (NTNX) – Sales rise 11% to a new fiscal Q3 high, allaying concern the company faces multiple contract cancellations due to corona. Several sell-side analysts raise their targets in response, just weeks after having lowered them.
NXP Semiconductors (NXPI) – Kurt Sievers will assume the title of CEO is addition to his current role as President, following the retirement of 11-year veteran CEO Rick Clemmer. While not an immediate catalyst, I am generally supportive of management consolidation because it streamlines operations and decision-making
Qualcomm, Inc. (QCOM) – The potential ban on US sales to Huawei may help QCOM in two ways: 1. Huawei may be forced to license QCOM technology in lieu of buying actual chips 2. Chinese handset makers may chose to buy directly from QCOM rather than rely on what would effectively be hybrid chips from Huawei.
SmileDirectClub (SDC) – Joins Anthem's Blue Cross/Blue Shield tele-dentistry program, further confirming SDC as a trusted and legitimate partner among established healthcare providers. Store re-openings in June are positive, as are expanding partnerships with CVS and Wal-Mart. I like the long-term Risk/Reward for SDC.
Trillium Therapeutics, Inc. (TRIL) – New data presented at ASCO reveals that a second patient suffering from lymphoma showed partial response at week 8… recall that the the first patient went on to show complete response after 36 weeks. Additionally, treatment is well-tolerated among all 19 patients, and targeted receptor occupancy exceeds 60% among the entire cohort, even at lower dosage. Very positive.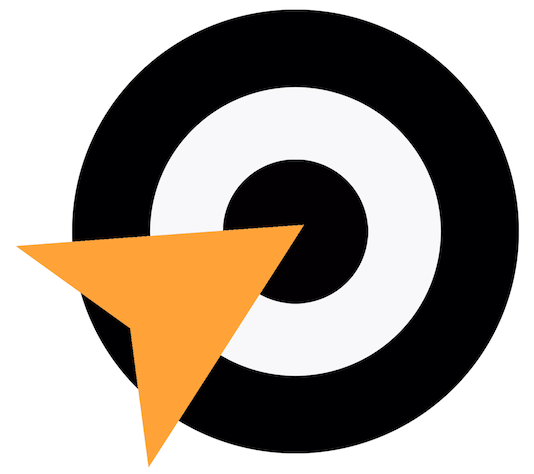 Bullseye Performance
---
Open Positions

(not current)



Closed Positions YTD (not current) 


*Dividends paid and option premium written reduces basis when applicable.
New Pick:

LVGO
---
AI, Man & Machine



Holistic Approach to Diabetes
Chronic disease impacts half the population and 4k Americans are diagnosed with diabetes every day

Integrating artificial intelligence and real-time monitoring significantly improves disease manageability

Combined treatment of diabetes and hyper-tension represents a $50B market opportunity in the US

Smarter Heath Care – Data has always been lifeblood for analysts, and increasingly it is becoming lifeblood for patients. The convergence of artificial intelligence and real-time monitoring using wearable devices facilitates a massive change in how doctors prevent, treat and manage disease. Not only can a person's vital signs be tracked over time, but potential events in the future can begin to be considered, redefining how we collectively approach health. This is very exciting, and life-changing for the roughly 50% of Americans dealing with chronic disease every day. In the case of diabetes for example, AI smoothes out the impact of real-time insulin injections by anticipating behavioral changes and acting proactively… AI may even start instructing patients to act differently via text messages (e.g. Rest for 5 mins, Have a snack, etc.). This is a brave new world, where the goals are quality of life, lower costs and maybe even avoiding illness in the first place. It's incredibly exciting, and it's where health care is going. Here's one of the companies leading the charge.
Livongo Health Inc. (LVGO) empowers patients with chronic disease to lead healthier and better lives. Founded by a healthcare professional whose child was diagnosed with Type I diabetes, Livongo provides the first-ever subscription-based platform interpreting real-time data from dozens of sources so patients feel comfortable making their own decisions throughout the day… it's like having a doctor on your shoulder. Just as Google democratized Content and Facebook transformed Community, Livongo revolutionizes Care with impressive results. Patients award Livongo a Net Promotor Score of 64 (exceptional), disease complications decline markedly when people switch to the platform, and Livongo's $85/month subscription saves insures an average of $2k annually by reducing unanticipated hospitalizations. It's why Livongo's revenues are doubling, and the initial diabetes-focused platform now covers other chromic indications like hypertension and obesity. With just 1-2% of these markets currently penetrated, and four thousand new diabetes cases being diagnosed every day, Livongo has significant runway for growth.
Livongo pioneered this approach, defined by an iterative and interactive loop. It's called AI+AI. The first A stands for Aggregate, where Livongo gathers information and data from dozens of sources, followed by an I for Interpret. Next comes another A for Apply, where patients receive specific instructions about managing their condition throughout the day, followed by an I for Iterate… repeat until something changes and the system sets a new course of action.
Unique Approach
Livongo's AI+AI


Partnerships are key to the success, integrity and robustness of Livongo's 24/7, 360-degree feedback platform. While Livongo operates the software that calculates and coordinates patient courses of action, the quality of its output depends on literally millions of data points from dozens of sources. Prescription history culled form PBMs… medical records collected from doctors and specialists… daily vital signs downloaded from an iWatch… hourly glucose levels from Dexcom monitors (which is just one of the 280 individual data sets tracked by Dexcom). Livongo has agreements in place with virtually every major provider, and utilizes APIs to assimilate the literally millions of available data points which contribute to a patient's overall health profile. Livongo then assigns individual coaches to specific patients in order to humanize what would otherwise seem like an overwhelming synthesis of information.
Livongo's business opportunity is massive. The company has about 225,000 members on its platform, yet 31 million Americans have diabetes and another 500,000 are diagnosed every year. If you consider the fact that 70% of diabetes patients also have hypertension… which can be managed much the same way via constant feedback monitoring… you realize that Livongo's growth opportunity is even larger. In fact, 147 million Americans have some sort of chronic disease (diabetes, hypertension, obesity, kidney failure, etc) and chronic disease accounts for 90% of healthcare spending. So from a macro perspective, get the approach right and the opportunity grows exponentially. This is what Livongo is ultimately trying to accomplish.
"If you think about having more and more data… we have the most glucose readings in the world, and we will soon have the most hypertension blood pressure readings in the world… the data gets richer. We also have a large team of data scientists using data to create algorithms to personalize and coach the information back to the person. We will keep adding additional centers of gravity to get to that 147 million, to become the complete chronic disease platform."
—Zane Burke, CEO Livongo Health Inc.
Competition among newly-minted digital healthcare providers serving the chronic disease market is fierce. Livongo may have the largest databases to date, but the data feedback market is fragmented and still in its infancy. Notable competitors include Glooko, Inc., Hello Heart Inc., Omanda Health Inc., Lyra Health, Inc. and Virta Health Corp. Curiously, all are private, making Livongo the only public, pure-play health platform utilizing the software as a service model (SaaS). This as a key differentiator, as it elevates Livongo in the public eye and creates first-mover advantage.
Revenue growth is rising triple digits, which puts Livongo on a glide path to profitability by next year. When you consider that 2020 sales will likely top $275M, ten times the amount Livongo recorded just three years ago, you begin to understand why Livongo trades at nine times sales… the upper end of the valuation range for comparable subscription-based software service providers. By the same token, management indicates this year's sales will reach half a billion dollars, and could increase another 30-40% next year. That puts 2021 revenues around $650M, implying a forward price to sales multiple of just four times, compared to 2.3x for the S&P 500 Index. Livongo is cheap.
Picture the Opportunity
Livongo's Growth & Valuation


The Trade
Buy Livongo Health Inc. (LVGO) $22-27 with a $50 target and a $20 alert.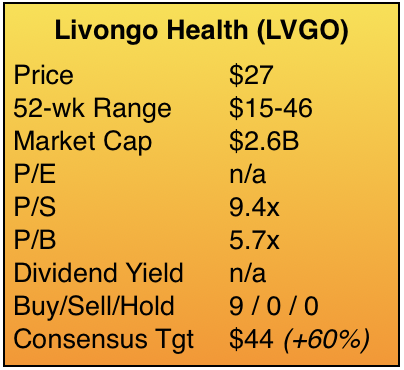 My target of $50 represents a compromise of sorts… an average between $46 (ten times 2021 sales) and $54 (eight times 2022 sales). The first is more aggressive while the second buys more time, but each gets us where we want to go… higher.
Ultimately, LVGO could trade appreciably higher if management executes as I expect. The company's combined diabetes and hyper-tension market opportunity is 20 times the current market cap. That's a lot of upside potential.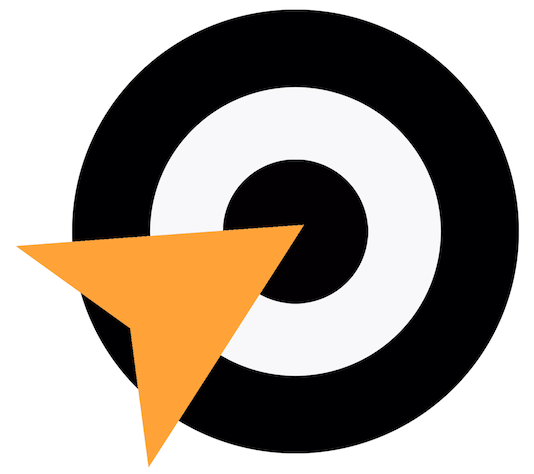 Building a Base
Livongo Health, Inc. (LVGO)

New Pick:
LNG
---
The Gift that Keeps Giving

Energy's Reliable Range Trade
Oil tends to trade between $50-$70 as falling prices curtail production while rising prices do the opposite

Energy stocks tend to echo underlying commodity price changes though often with greater volatility

The nation's first LNG exporter runs a very predictable business model yet its stock gyrates considerably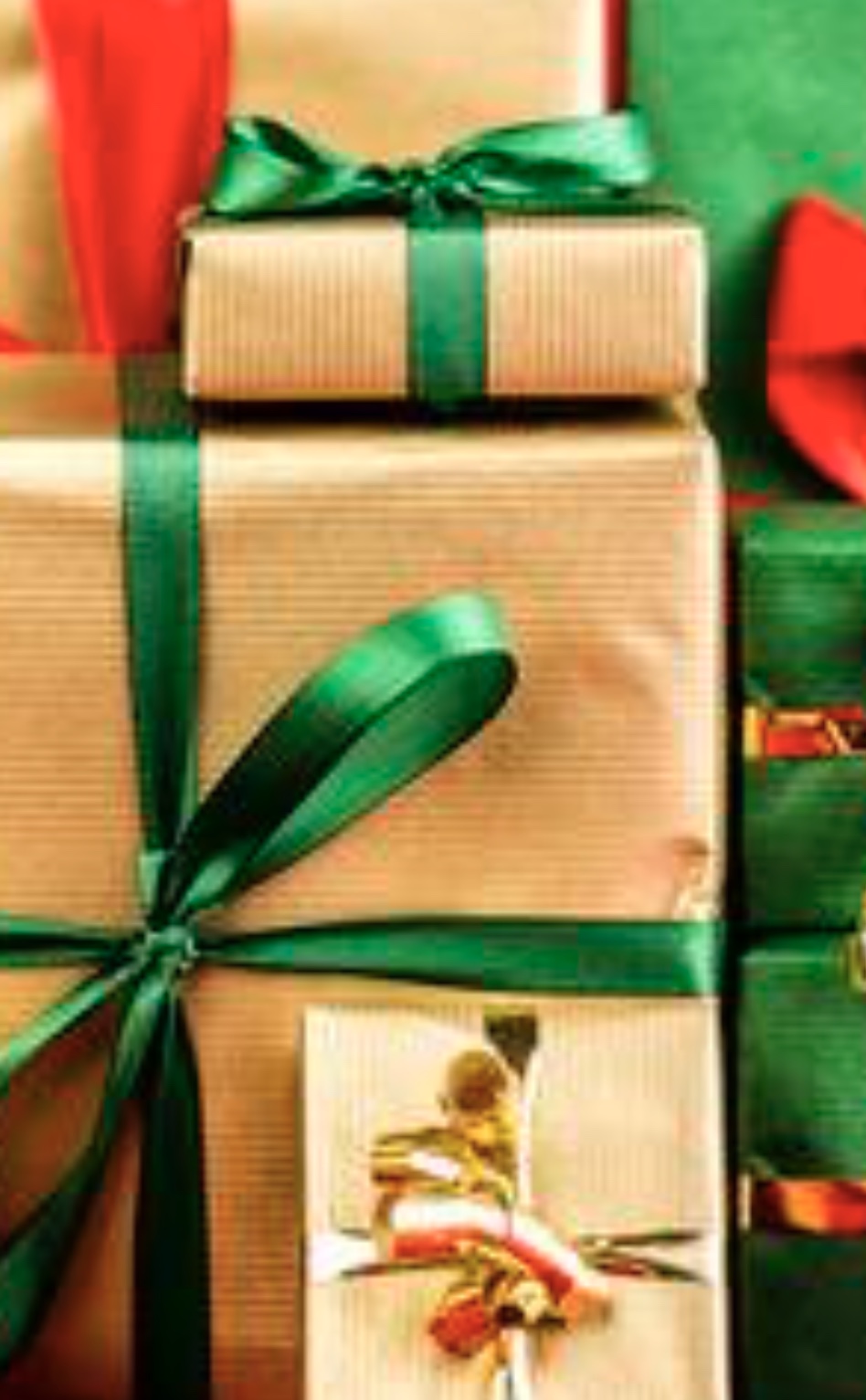 One the energy sector's most pioneering companies in decades has become one of the stock market's most reliable trading vehicles in 2019. Several years ago I bought this stock as a ground-breaking play on US energy exports, something that had previously never been allowed on national security grounds. Eventually I booked a long-term capital gain and moved on. Then in June I returned as a tactical investor, buying at $58 and selling at $68 just three weeks later. Now I'm back for a third time. In fact, there have been eight such moves over the past two years, and while I'd love to simply own this ground-braking company for the long haul, I also enjoy booking gains with regularity… or at least trying to. Given the volatility of markets as we await progress on trade, I am happy to add a trading vehicle to the portfolio.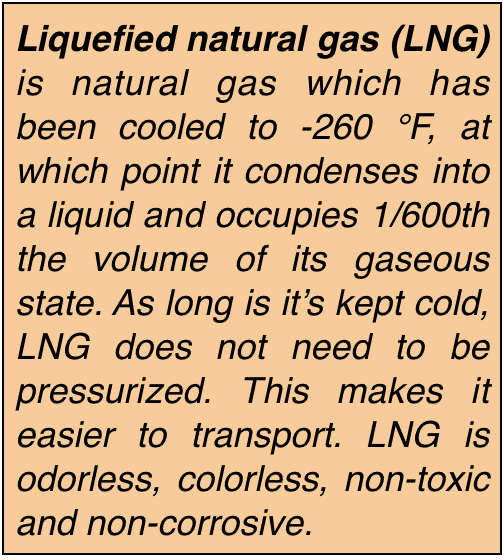 Cheniere Energy Inc. (LNG) is the first-ever US exporter of liquified natural gas (LNG)… hence its stock ticker. The company currently operates several production lines at its prime terminal in Louisiana, and it is adding additional capacity in Texas. Cheniere has brilliantly matched long-term supply contracts from US producers with long-term sales contracts to major overseas buyers, enabling it to run a near-perfectly balanced business model.
That said, the stock trades all over the map. The slightest headline (company-specific or otherwise) can send shares up or down 10-15% within a couple of sessions… then back again several days later. If the business weren't so steady, this kind of volatility would drive me crazy, but in Cheniere's case I can actually embrace the action. Management's proven ability to execute gives me confidence to go against the grain and buy the dips.
Trading Vehicle
Cheniere Energy Inc. (LNG)


Recent downdrafts have sent shares into the $50s, but not for long… days or weeks later they're back to $68. Knee-jerk traders incorrectly assume that Cheniere's stock price should reflect the price of oil, but it shouldn't. The company is much more of a toll collector than a price-sensitive producer. Let me explain why.
What Cheniere Does – The company buys natural gas from US producers… converts it into liquified natural gas so it's easier to ship… then sells it to utility buyers overseas who have little or no domestic natural gas. These contracts are written for 20 years, giving Cheniere unprecedented earnings visibility.

How Cheniere Makes Money

– 85% of all natural gas bought by Cheniere domestically is priced at a spread vs. the Henry Hub futures, and then sold internationally at a higher spread which reflects transportation and processing costs. As a result, the vast majority of Cheniere's profit margin is locked-in. The remaining 15% of capacity floats with market prices, creating a call option on rising demand over time.

Why Cheniere is Unique

– The company was the first to build US LNG export facilities and the first to lock-up long-term contracts, proving an enormous first mover advantage. Managment has chosen to add capacity incrementally only after signing simultaneous supply and demand contracts, enabling it to obtain significantly cheaper financing. To date, construction has progressed on-time and on-budget.

Where Cheniere is Going

– The company currently operates five processing "trains" at its Sabine Pass facility in Louisiana. A sixth is under construction, and a total of nine are planned. Three additional trains are under construction at a second facility in Corpus Christie, Texas, one of which will come online later this year (permitting allows up to five ultimately). All trains share the same economics, meaning construction has been fully backed by long-term buy/sell contracts.
Cheniere is a profit machine. Earnings estimates of $2.24 next year imply 276% growth, and 2021 earnings could rise an additional 40% to $3.75 as more trains come online. Twenty of 22 analysts rate Cheniere a BUY, and their average target is $81, providing potential upside of 33% from the current price.
Are there risks? Yes. Super-cooling natural gas in processing units up to one mile long is risky by definition, as is shipping hydrocarbons half way around the world. Additionally, debt is fairly high at 9x EBITDA, though leverage declines to 7x next year as more trains come online and generate cashflow. Finally, declining natural gas and/or Brent crude prices in the future would erode Cheniere's implied call option on the 15% of its capacity which is unhedged.
The Trade
Buy Cheniere Energy (LNG) $56-60 with $68 target and $54 alert.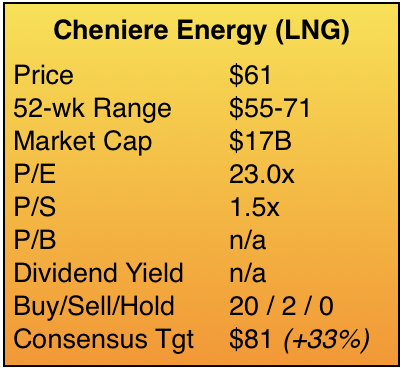 This is a tactical position. I am looking to buy Cheniere only on a dip into the upper $50s… no dip, no trade. I will look to sell as the stock approaches $68.
There have been several such opportunities over the past twelve months, and I and writing this report now with the stock ABOVE my buy zone in order to open the door to a potential, timely purchase in the future. Cheniere is extremely volatile, and it's a stock I want to own it on selloffs.
Finally, if volatility and buying in the hole make you nervous, this is not for you.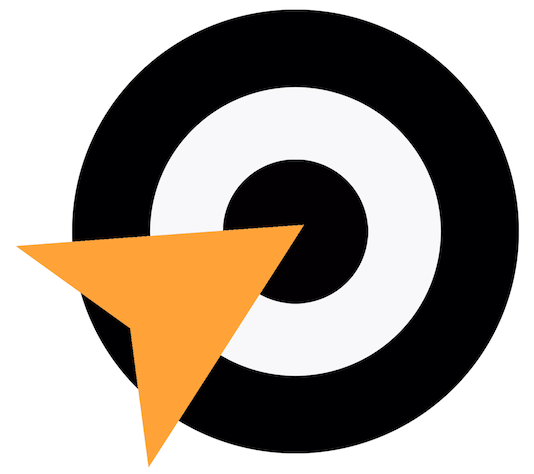 Roadmap for Our Week Ahead
---
Monday  
Rebound #1

– US manufacturing PMI is expected to rebound slightly from the previous month's all-time low.

Summer School

– UK schools reopen.

Hunker Down

– The Atlantic Hurricane seasons begins and is expected to exceed 2005's 28 storms.

Corona Costs #1

– The nation's largest health insurer… UnitedHealth Group holds its annual meeting.

Techies Unite

– Morgan Stanley hosts its Cloud Conference.

Earnings

– FLR
Tuesday
More Money

– The Senate may vote on another round of fiscal stimulus, Paycheck Protection Program #3.

Attention Value Buyers

– UBS hosts its annual Industrial Opportunity Conference.

More Techies Unite

– BofA Merrill Lynch hosts its annual Global Tech Conference.

Ma Non Troppo

– Italians plan mass protests in Rome related to the government's corona response.

Earnings

– None
Wednesday
Money Talks

– Mortgage Applications may rise for a 4th time in 5 weeks, a sign low rates are spurring demand.

Rebound #2

– US service sector PMI is expected to rebound slightly from the previous month's all-time low.

Smartest Guys in the Room

– Google holds its annual meeting… why did I ever sell?

Earnings

– AEO, CPB
Thursday
Fingers Crossed

– Weekly Jobless Claims are expected to dip below 2M for the first time in 11 weeks.

EU Life Support

– The ECB is largely expected to boost its current corona-related stimulus.

Hit Me

– Las Vegas plans to reopen its casinos, but at one-third capacity with temperature checks and masks.

Corona Costs #2

– Brookings hosts a webinar aimed at quantifying corona costs across the financial sector.

Earnings

– AVGO, GPS, SIEN
Friday
Deep Breath

– Unemployment is expected to rise to 19.7%, its highest level since the Great Depression.

No Breath

– US Consumer Credit is expected to contract by an even greater amount than during the financial crisis.

Earnings

– TIF
Wednesday's Podcast
---
MVP to CEO – Former San Antonio Spurs star David Robinson and his Goldman-trained partner David Bassichis of Admiral Capital share how their real estate investment firm is dealing with Corona… from vacancies and dislocations to outreach and partnerships across communities where they invest. You'll get the link by noon.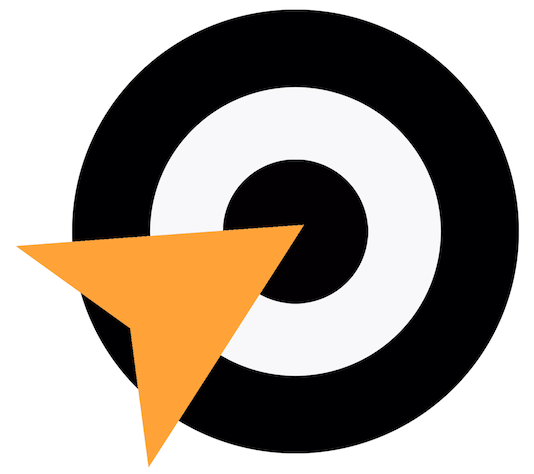 Trader Talk
---
Group Think – Fear is a creeping nasty menace… like a weed that weaves its way subtly at first, and then completely takes over. Legendary money man Stan Drukenmiller told CNBC last week that risk and reward in the stock market is more out of synch that at any time in his career, a view that was echoed on another channel by noted hedge fund billionaire David Tepper. Within hours I received half a dozen concerned emails asking whether I agreed, and I suspect similar conversations swirled across much of Wall Street, likely explaining why stocks fell 4% mid-week. I'm not saying concern about valuation for the S&P 500 Index is unfounded, but I do think fear can reverberate quickly when people are already on edge. I also think that focusing on high-quality companies levered to long-term growth themes, ideally with specific catalysts on the horizon, provides a far more thoughtful way to invest. It's my way of pruning the garden.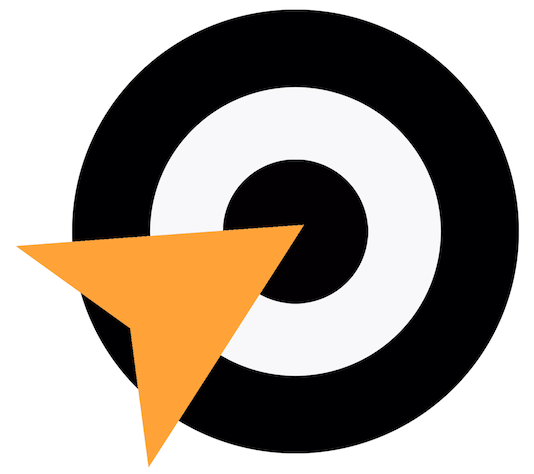 Enjoy a Free 45-Day Subscription to Bullseye Brief