Sample Issue
Anchors Aweigh

One Fleet to Own Now

High quality shipping assets are trading at significant discounts to net asset value (NAV)

China LPG imports up sixfold since 2008 are forecast to rise again in 2016/7

Niche operators earning profits now are highly levered to potential rate increases

Maritime stock valuations tracking commodity prices will recalibrate to shipping volumes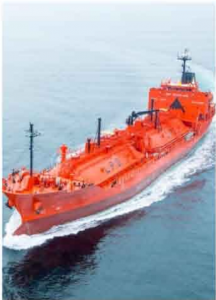 We've just identified the Perfect Storm, and we like what we see. StealthGas is a Greek-based operator small-sized tankers transporting Liquified Petroleum Gas (LPG). It embodies everything investors have been desperately trying to avoid for the past 12-18 months: Uncertainty in Greece; Price Implosion in Energy; Oversupply in Shipping. So why are we intrigued? Price. The stock trades at a fraction of net asset value. In addition, it has lots of cash, very little debt, a new fleet with dominant market share. One more point: It's making money even now, at the lowest shipping rates in decades.
StealthGas is a balance sheet story with a cash flow cushion. Assets comprise cash of $100M and a fleet valued at $1.05B. Its 53 ultra-high quality, Japanese-made LPG carriers have an average age of 8.8 years. The fleet is almost fully booked, operating at 93% of capacity, and last year the company generated nearly $50M in EBITDA. Liabilities as of 12/31 totaled $455M, including $75M short-term debt and $347M long-term debt. Debt is privately held by international lenders in the form of loans at an average of +200bp over LIBOR for terms of 7-15 years. Leverage (net debt to assets) is 35%, half the industry average and likely to decline through 2018 as the company retires a portion of its current loans. Bottom line, StealthGas owns high quality assets funded with low comparative levels of debt.
Compelling Value

Key Metrics as of 12/31 (millions)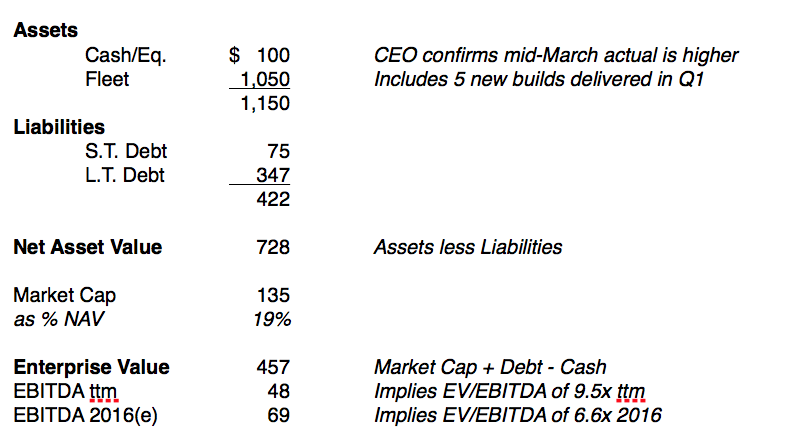 We interviewed CEO Harry Vafias mid-March at the NASDAQ market site. To say he is exasperated by the current price is an understatement. While he concedes all shipping stocks have suffered with oil prices, especially StealthGas as a Greek domiciled enterprise, he thinks the discount is extreme. "Let me stress how cheap our stock is, how strong our balance sheet is. We have very little debt and lots of cash. We are trading at less than a quarter of NAV. Someone should buy us."
Let's indulge that last comment for a moment and imagine that someone should be us. Current enterprise value is $457M, which includes equity and debt less cash. Assuming we paid a 20% premium to equity holders as a sort kiss to the Gods (this is a Greek company, after all) our total purchase price would rise to $484M. In return, we'd be getting 53 virtually new ships worth $1.05B and generating an estimated $69M in cashflow this year. At this point we could either:
a. Net $251M by liquidating the company, which entails selling the fleet at say a 30% discount to market value and then netting proceeds against the purchase price (1.05*0.70 – 484 = $251M) to generate a Return on Equity of 52% (251 / 484)
b. Earn $25M annually by privatizing StealthGas in an LBO, financed by putting up a portion of the fleet as collateral and using cash flow to support debt payments. If we apply the same 30% haircut to the fleet's market value, we'd need to post roughly 2/3 of the fleet as collateral against the purchase price (484 * 1.3 = $629M). If this were financed with debt at 7%, debt service would total $44M (629 * 0.07), which is easily covered by 2016 estimated cashflow of $69M. Pretax operating profit would be $25M (69 – 44).
To check our math and get a second opinion, we spoke with Jefferies' I.I. ranked shipping analyst Doug Mavrinac. For starters, he rates the stock a buy with a $7 price target, suggesting it's 50% undervalued at current prices. He shared several other key perspectives. First, he notes StealthGas is making money at the bottom of the rates cycle, which should provide considerable operating leverage if rates begin to rise. In fact, Mr. Vafias told us a sustained increase of $1,000 in the current day rate of $7,000 would add $20M to cashflow this year. Second, Doug argues maritime shipping stocks should trade on the volumes of the materials they transport, NOT the prices of those materials… and volumes are up.
Liquified petroleum gas (LPG) shipments from the Mideast to China have been rising steadily. This is where two-thirds of StealthGas vessels are booked on term charter, and why the company enjoys a 93% operating rate. Since 2008, China's imports have increased sixfold, as rising household wealth has enabled more Chinese to purchase cooktops and stoves. Globally, Doug forecasts global LPG trade will grow 15-16% in 2016 and 10-11% in 2017. This is very good for StealthGas.
China Driving Demand for Tonnage

Imports of LPG + Hydrocarbons (000 tons)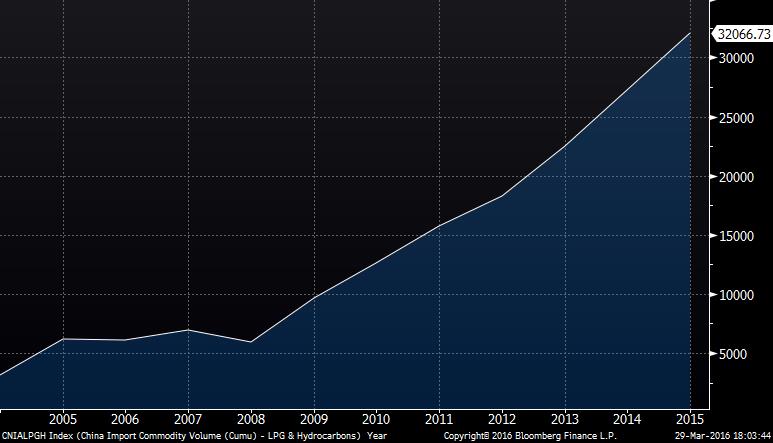 Critically, StealthGas operates vessels in the smallest class of LPG carriers (3,000-8,000 cubic meters). This is a distinguishing advantage over competitors, whose larger vessels cannot access the many smaller ports which supply secondary and tertiary Asian markets. Additionally, with fewer smaller vessels on the water currently and fewer new build deliveries expected in 2016 (11% vs 39% overall) smaller vessel day rates are significantly less volatile than those for larger vessels. Doug believes this combination of fundamentals creates divergences within shipping asset classes and positions StealthGas as the one to own.
Ultimately, the maritime shipping industry is fairly easy to understand. Operators fund vessel purchases with debt, servicing coupon payments with cash flow earned from transporting material with predictable regularity. Eventually, bonds come due and vessels are either recapitalized or sold. Proceeds fund purchases of new vessels and the cycle recommences. The opportunity in StealthGas currently is equally straightforward: A stock valuation at 19% of net asset value is simply too cheap for a market share leader whose vessels are nearly fully booked, generating ample cash flow to service low levels of debt and produce profits for shareholders.
Buy StealthGas under $3.50 with a target of $11, which equates to the average Price to NAV multiple of its peers — arguably still too cheap given the asset quality.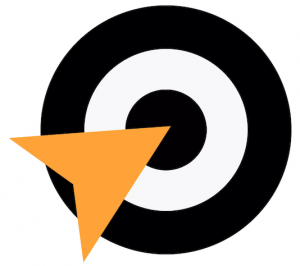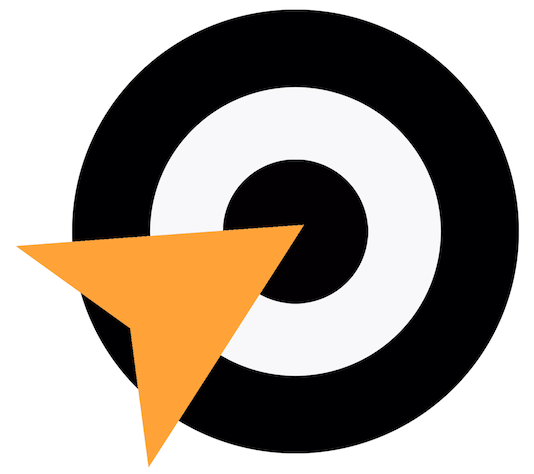 StealthGas: Too Cheap to Ignore

March 2016 (Bloomberg data)

---
Billion Dollar Cannabis Gel

A Patented Approach to Pain & Epilepsy
Cannabis sales will total $7B in 2016 and could triple by 2020 according to researcher Arcview Market

Several dozen biotechnology companies are focused on the perceived analgesic benefits of cannabinoids

Addressable patient markets for cannabis-derived compounds include epilepsy, osteoarthritis, neuropathy

Bloomberg will feature a Cannabis symposium in November for family offices and high net worth clients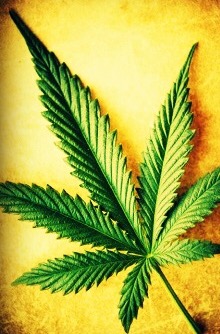 Scientists, regulators and millions suffering from pain are trying to get their hands on cannabis –but not the kind you smoke, eat, or grow in an alley. This is the cleaner side of marijuana. One small biotech company has figured out how to synthetically manufacture the plant's two defining compounds, cannabinoid (CBD) and tetrahydrocannabinol (THC), then deliver to them to patients as a wearable patch or topical gel. Preliminary results are impressive: No nausea, no high, no pain… and for investors, no correlation to the S&P 500. The breakthroughs are so promising five separate Phase II trials are either planned or underway. If recent results from a competitor are any indication, FDA applications could follow. From backyard contraband to laboratory legitimacy, pot has grown up.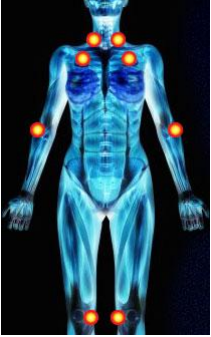 Zynerba Pharmaceuticals (ZYNE) has been getting a lot of attention recently, more than most companies valued at just $132M. Its two patented compounds are synthetic versions of the pain-suppressing, anti-inflammatory chemicals which appear naturally in marijuana, and unlike competitors, Zynerba has figured out how to transmit them through the skin, avoiding many of the side effects associated with oral ingestion by regulating chemical flow more evenly. Its 5 independent Phase II trials are fully funded through 2017, and Zynerba owns its two proprietary compounds outright, with patent protection for 14 years.
ZYN002 is a CBD transdermal gel

which appears to lower the incidents of seizures among patients suffering from epilepsy, as reflected in an initial Phase I trial focused on Zynerba's unique transmission mechanism. A Phase II trail is now underway involving 180 adults, with top line data expected 1H 2017. An estimated 2.2 million Americans suffer from epilepsy, and another 3.1 million in Europe and Japan. ZYN002 has two additional applications: Osteoarthritis and Fragile X Syndrome (an autism-like genetic condition affecting 71k). Osteoarthritis affects 31 million Americans, so the potential commercial opportunities here are significant. As with the lead Phase II trial for epilepsy, results for the Phase II trials involving Osteoarthritis and Fragile X Syndrome will be available 1H 2017.

ZYN001 is a patch formulation of synthetic THC.

By keeping THC out of the digestive tract, hallucinatory side effects are avoided and clinicians can instead focus on the perceived pain-relieving (analgesic) benefits of THC. Phase II studies begin early in 2017 for two applications: Fibromyalgia and neuropathy, or chronic pain. These are also potentially significant markets in the U.S., with 5.6M and 14.0M patients respectively. This will be the first major study involving the patch transmission in humans, though Zynerba has already demonstrated success in animals. In addition, these studies will mark the first time THC's analgesic benefits have been tested for fibromyalgia and neuropathy.
The Scientific Side of Pot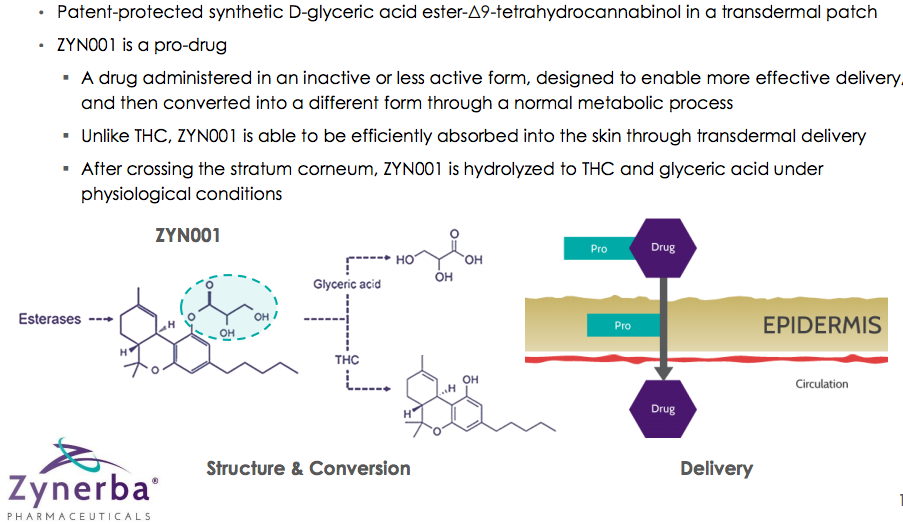 Okay, I admit this is heady stuff, but here's the key: I want to allocate a portion of capital to uncorrelated and unique technologies as a way of diversifying and distancing capital from the drone of Fed policy, low GDP and excessive gov't regulation.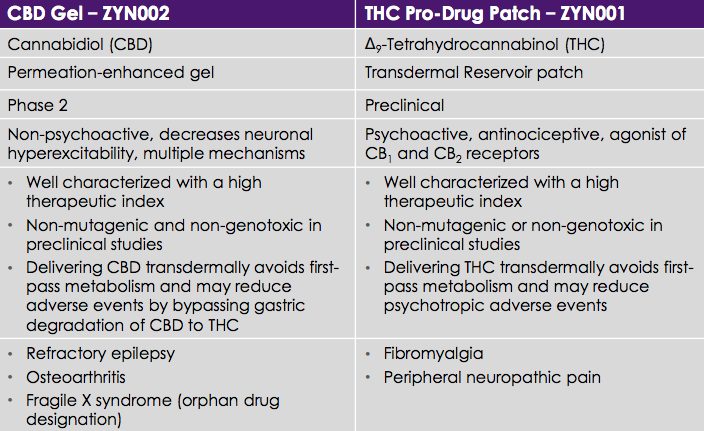 Zynerba offers a promising, patent-protected technology which could serve millions of potential patients globally. It could also prove an excellent acquisition for large pharma if even one of its five current Phase II or pending Phase II studies moves closer to commercialization. I should also note the company has sufficient cash to see each Phase II trial to completion through 2017, given $32.1M as of 6/30 and a quarterly burn-rate of $4-6M. While subsequent Phase III trials necessary for approval would require additional capital, the company could likely attract a licensing partner or float additional stock. Here's the take from H.C. Wainwright & Co. analyst Corey Davis, Ph.D., who initiated with a BUY on October 7.
"Cannabinoids are quickly becoming medicalized, and the pharmaceutical industry has moved closer to capturing the clinical benefits with validated trials acceptable to the FDA. The likelihood of success is higher than normal for the average pre-Phase II company. This is not baked into the current valuation and Zynerba is not as early stage as many believe… given the validation of CBD from the success that GW Pharmaceuticals has recently had with Epidolex Phase III trials [as 88% of subjects responded positively]."
The comparison between Zynerba and GW Pharmaceuticals PLC (GWPH) is meaningful. GW has tripled since March on a series of positive outcomes for its own cannabis-related treatment for epilepsy. Zynerba has risen about 40% in sympathy. The difference however is that GW's regimen is administered orally and ingested, producing adverse side effects, whereas Zynerba's patch/creme solutions avoid the liver and GI tract altogether. The hope among analysts like Dr. Davis is that Zynerba replicates GW's 88% response rate but with fewer complications… and its stock rallies by an equal magnitude. All six analysts covering Zynerba rate it a buy and the average target is $31, up about 2.5x from the current price of $12.50.
Hand-In-Hand
Zynerba & GW

The Trade
At the moment, Zynerba's stock price is arguably more reflective of GW Pharma's success than its own, having risen on positive GW data well ahead of its own Phase II data. due next spring. As a result, Zynerba is a stock to buy on pullbacks, ideally closer to $10. Currently it's $10.90. Without quibbling too much over a few dollars when playing for a triple, here's the action plan.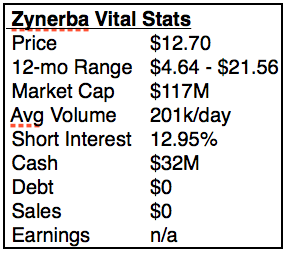 Buy the stock under $11. The green trend line of support is about $8.50, and trial results are not expected until next spring, so we can take our time building a position.
Write puts on down days. Zynerba puts trade at wildly inflated implied volatility premiums, making them particularly appealing as sales. Remember, writing a put means we potentially buy the stock if it trades through the strike. Sell the November $10 puts at $1.00 with the stock at $10.90. Either we'll become buyers at $9.00 (close to the $8.50 trend line) if the stock declines, or we'll generate $1.00 in income over 35 days if the stock rallies or trends sideways. That's 96% annualized.
Writing out-of-the-money puts for the next year at 96% annualized means, we'll collect enough premium to own the stock for free. Good science meets good trade.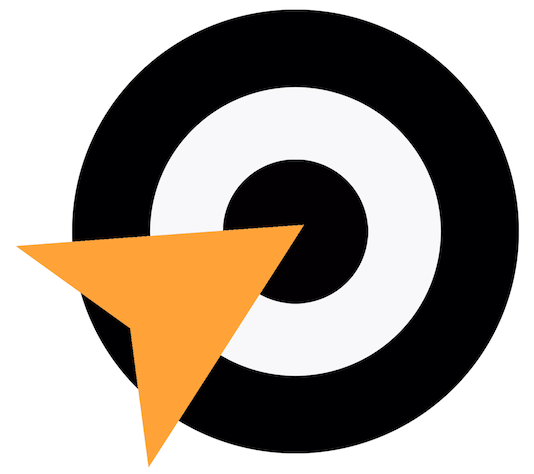 ---
Perception vs Reality

Wells Fargo Too Cheap

Wells Fargo trades at multi-year lows versus peers and its own historical valuation

Recent concerns over falsified accounts involved fewer than 1% of employees

Congressmen up for re-election have turned CEO Stumpf's testimony into political grandstanding

The $185M fine levied against Wells Fargo amounts to less than 1% of earnings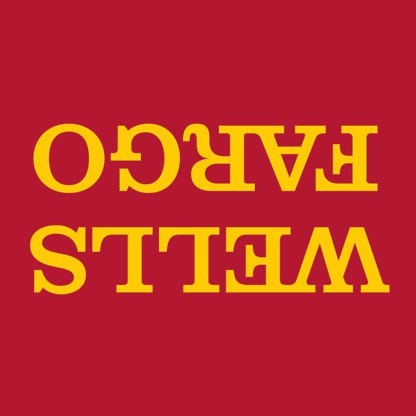 Wells Fargo & Company (WFC) was founded in 1851 to speed capital, information and people from New York to California by the fastest means possible. Ten years later the bank operated the first electronic money transfer service, and by 1918 its network of 10,000 offices served customers nationally. During the financial crisis, Wells Fargo generated profit for shareholders every single quarter. It was the only large cap bank whose executives testified before Congress they neither wanted TARP money nor needed it. Wells Fargo is the single strongest banking franchise in the U.S. and concern over what amounts to a charge of less than 1% against earnings has created a rare opportunity to buy this stellar company at a significant discount. Defrauding customers is unconscionable, but the bank has taken strong corrective measures. It is also highly capitalized, growing and cheap. BUY WELLS FARGO NOW.
Throughout the financial crisis I had the distinct pleasure of interviewing Wells Fargo CFO Tim Sloan, as anchor of Bloomberg's daily 3-5pm program Street Smart. Every quarter I'd try to find something that looked off, and he'd calmly explain why it wasn't a big deal. We'd spar good-naturedly. He knew I had a job to do, and I knew he was particularly good at his. While Citigroup Inc. (C) booked significant quarterly write-downs and Bank of America (BAC) struggled with legacy losses from to Countrywide Financial, Wells made money.
Tim is now President/COO and I write Bullseye, so talking earnings every 90 days is no longer part our modus operandi. That said, I've gotten to know his company pretty well over the years, and I have some thoughts of my own, especially as I look at the stock down about 10% versus the S&P 500 since June 30. For starters, the impact on results is immaterial:
Fewer than 1% of the bank's 265,000 employees opened false accounts all have since been terminated
False accounts generated just $5 million in ill-gotten gains… equivalent to 0.01% of annual revenues
California's decision to exclude Wells Fargo from municipal underwriting for one year represents less than $2 million in fees, 0.005% of annual revenues
Full restitution to customers affected cost Wells Fargo just $25 per false account
The penalty paid by Wells Fargo of $185M equates to $0.04/share, or less than 1% of 2017 earnings
This Rarely Happens
Wells Fargo Breaks Below Peers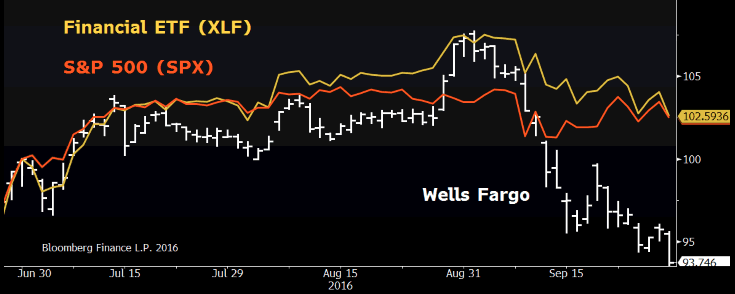 The issue with Wells Fargo is perception, especially since grilling executives twice in two weeks provides Congressmen seeking re-election ample opportunity to grandstand in front of the cameras… Bloomberg Television took it LIVE for several hours. Perception has caused this stock to sell off, not the nominal $185 million penalty or resulting $0.04 charge to earnings. Again these amounts are immaterial to an institution of Wells Fargo's size.
Wells Fargo underwrites roughly one-quarter of all mortgages in the U.S. Its unprecedented scale as the largest domestic lender will generate $20.4B of net income this year, based on consensus estimates. Only 40% of this amount is distributed as a dividend (currently 3.41%) and Tier 1 Capital of 12.81% is second only to J.P. Morgan among the mega-cap banks. Wells Fargo is exceptionally well-capitalized, and any concern about a possible snow-balling over loan falsification and its potential threat to liquidity are unfounded. Institutional Investor's top-ranked banking analyst Betsy Graseck of Morgan Stanley upgraded Wells Fargo this week, writing clients:
Wells Fargo is rarely this inexpensive and this is an opportunity. We are upgrading to overweight. Recent underperformance drives Wells' yield to 3.4%, the highest in the group. The current multiple of 10.7x 2017 earnings provides best value among peers and offers an attractive entry point for this best-in-class dividend yield. Wells should begin to find a bottom, and we see a 3:1 Bull Bear skew.

We all recognize assets are generally cheap for a reason… the house abuts train tracks, or the company's patents expire next year. However, in the case of Wells Fargo we have an exceptionally strong franchise trading at a significant discount due to headlines fanned by a political spectacle 40 days ahead of highly contested elections. Having been in the media, I am certain the camera will find a new pariah in short order. Meanwhile, investors should focus on the facts, figures and value at hand: Wells Fargo's stock trades at a 2-year low, while Price to Earnings and Price to Book have fallen to 3-year lows. Wells is also now cheap versus peers. Ms. Graysek's charts speak volumes.
How Cheap Is Cheap?
Wells Fargo Historic P/E Ratio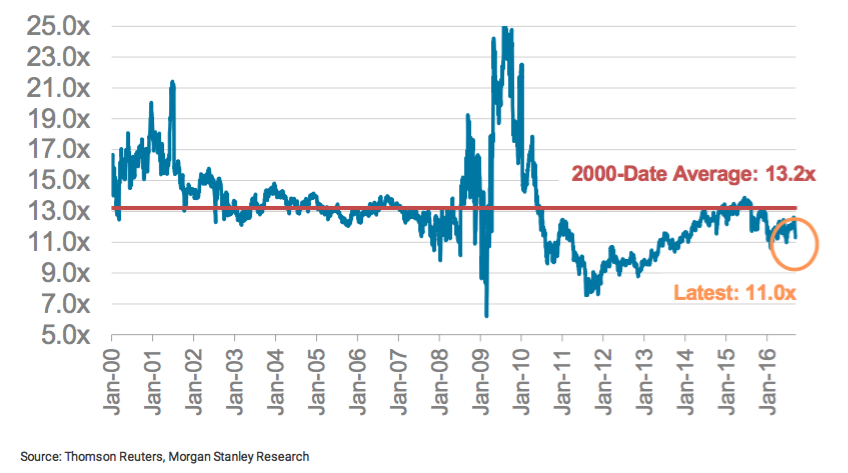 Let's not overthink this. Wells Fargo is the single largest bank in the U.S. by assets. It originates one quarter of all mortgages in this country and it is exceptionally well-capitalized. The stock trades at multi-year lows. Valuation is historically cheap by several measures. Current P/E is well below the average since 2000, and Wells trades roughly even with peers currently. It usually trades at a premium. In addition, the current Price to Book of 1.17x is below the long-term average of 1.62x (per Bloomberg data). As Betsy told Morgan customers, you rarely see a bank of this caliber trade at a discount –especially Wells Fargo.
How Cheap Is Cheap?
Wells Fargo P/E vs Peers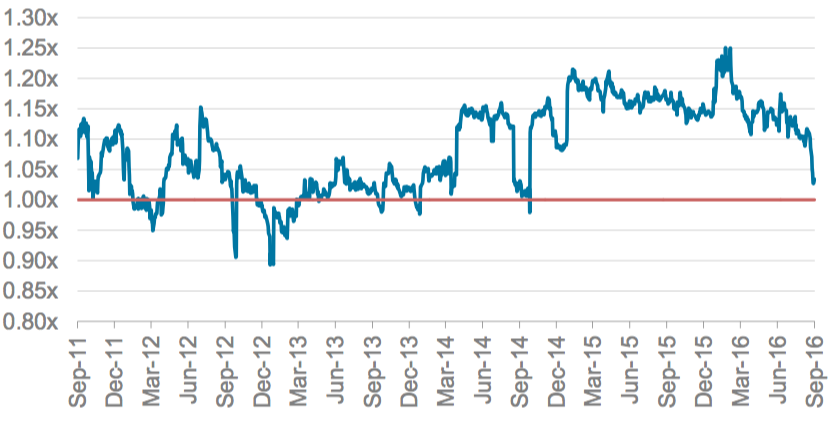 Wells Fargo currently pays a $0.38 quarterly dividend and yields 3.4%. There is no danger of a dividend cut. The bank has more than enough capital to withstand any added restrictions or additional fees/penalties. Morgan Stanley and others have written publicly they believe regulators will not impose further charges. In an effort to move forward, the bank has already taken corrective measures of its own, firing 5,200 employees and announcing upper management will forgo bonuses this year. Additionally, all affected customers have been credited the full $25 cost they incurred. ATMs offer an apology on the home screen to all users. In an ugly situation, Wells Fargo is doing the right things.
Critically for investors, Wells Fargo has stopped falling on bad news… Stumpf's second day on The Hill was a circus, Illinois and Connecticut may join California in suspending municipal underwriting with W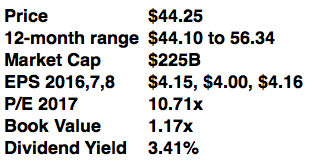 ells for a year. When stocks stop falling on bad news, sentiment has turned and buyers are committing capital. This is the clear sign of a bottomming process and Wells Fargo will not stay cheap for long.
Buy Wells Fargo while it is still below $45. My target is $55, which equates to 13.2x 2017 earnings, Wells Fargo's average multiple since 2000.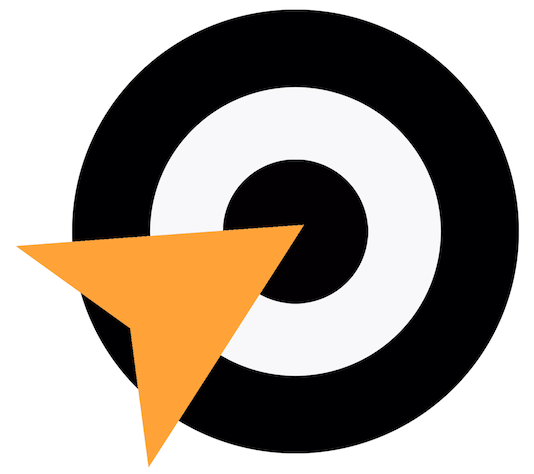 Enjoy a Free 30-Day Subscription to Bullseye Brief